Saturday Night Jazz . End of Year Concert – 2020.11.28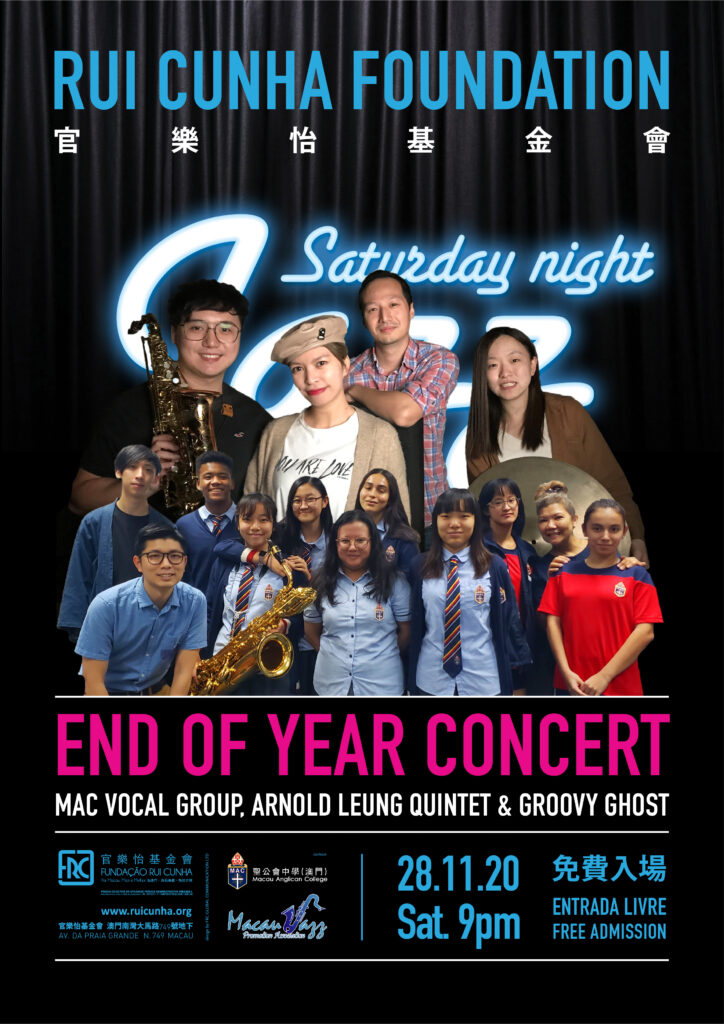 The Rui Cunha Foundation presents on November 28, at 9:00 pm, the last "Saturday Night Jazz" of 2020, entitled "End of Year Concert", with the MAC Vocal Group, the Quintet of Arnold Leung and the Groovy Ghost participations.
This November session of "Saturday Night Jazz" will therefore end the cycle annually co-organized by the MJPA – Macau Jazz Promotion Association – and the Rui Cunha Foundation, bringing to the FRC Gallery's stage three local groups that have been around on the musical circuit of the Pearl River Delta Region.
The collective performance will again pull together the MAC Vocal Group, a musical ensemble from the Macau Anglican College, which collaborates for the third year with MJPA and the Jazz Nights at FRC, led by professor and double-bassist Johnny Yau, who has made us discover new young talents to interpret favorite themes of the great jazz classics.
The Arnold Leung Quintet, led by the pianist, arranger and composer, will showcase the talent of the musician who graduated from the Central Conservatory of Music in Beijing and, in 2014, received an invitation to join the Jazz Orchestra of the Academy of Performing Arts and School of Music in Macau. By that time, he also joined and started playing with the Macau Jazz Promotion Association (MJPA). In 2018, he formed the jazz group Ace Trio and, in 2019, he was invited to master the piano of the CCOM Big Band.
The Groovy Ghost, guided by composer and pianist Addison Wong, is a fusion band that mixes jazz, funk, hip-hop, soul and world music. Wong was born in Macau, but went to the United States to study music when he was 16. He graduated with a master's degree in music composition from the University of Oregon. Later, he was appointed as the music director at Bushnell University, where he continued to conduct his jazz, choral and orchestra band, as well as teaching courses in music theory and composition. The band will perform at this concert songs by Funky Knuckles, RH Factor and Galactic.
Admission is free.
Don't miss it!
For Macau, Further and Higher!