Smoke and Drugs Free Painting Art Display – 2020.11.04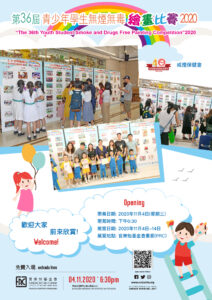 The Smoking Abstention and Good Health Association is an NGO that was founded in 1980. In the promotion of smoking cessation and anti-smoking campaigns, no matter in social initiatives, policy advocacy, media communication, supplemented by active alliances and tobacco control agencies around the world to promote the legislative process from scratch, the Association contributed to the history of legislation and development on tobacco control in Macau.
At the same time, it has also contributed to the goal of making Macau a healthier city. In cooperation with Au Hon Sam Charity Association, the Smoking Abstention and Good Health Association set up a free outpatient treatment unit that has been in operation since February 2005, with the support of the Social Welfare Bureau of Macau SAR Government (IAS), to help those smokers who intend to quit smoking. Throughout the promotion, the Association provides knowledge to smokers about the dangers of smoking and hazards to health. It also serves to provide stimulation for those who want to quit smoking.
The "36th Youth Student Smoke and Drugs Free Painting Competition's Art Display", which is organized every year by the Smoking Abstention and Good Health Association, within the scope of "May 31 – World No Tobacco Day" activities, has been postponed in 2020 to later this year, between 27 August and 30 September, due to the pandemic. The competition exists since 1984, and in 2020 has gathered the participation of 49 primary and secondary schools, which submitted 2532 works in total.
The purpose of the display at the Rui Cunha Foundation Gallery, where the winning artworks can be appreciated until November 14, is to disseminate healthier lifestyles as fundamental values for today's society, while encouraging young people to share the message with their family and friends, and to engage in activities that cultivate the artistic creation dedicated to the cause.