Blue Card Holders – The unloved? – 2020.10.08
Blue Card Holders – The unloved?  –  October 8, 6pm (GMT+8)
Co-organization: Rui Cunha Foundation and MBtv Debates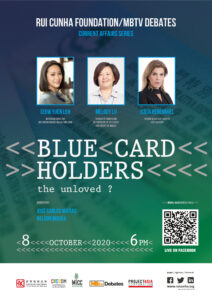 Speakers:
Seow Yuen Loh – Managing Director – MSS Recruitment Hello-jobs.com
Melody Lu – Associate Professor, Department of Sociology, University of Macau
Icília Berenguel – Senior Associate Lawyer, C&C Lawyers
Moderators: José Carlos Matias,  Nelson Moura
The Rui Cunha Foundation and MBtv Debates will hold on the 8th of October, at 6 pm a conference on Blue Card Holders – the unloved? Inserted in Current Series of MBtv Debates.
Non-resident workers, commonly called blue or white cards, continue to feel that they are only doing well in Macau when Macau is doing well for itself; when times are good, and local workers do not want or are not qualified to do jobs that, at that time, are left for others. And when times go wrong, non-resident workers feel the burden of difference.
Not only do they not receive the same treatment from the government when it distributes financial support and other benefits, but they are also the first to be dismissed, because the local population would not welcome their own removal, with or without Covid-19.
Is this really the situation that, according to some critics, edges on the borders of xenophobia, or is it an overstatement?
Besides that, in the rest of the world, isn't the temptation substantially the same: that of protecting the local people in the first place?
Meanwhile, as Macau gears up to embrace the Greater Bay Area development plan, imported labour is set to play a crucial role to enhance the city's competitiveness. How to protect the local manpower, have a more humane approach to migrant workers, attract talents and ensure that companies have access to the workforce they need to prosper?
One of the debates of the moment not to be missed, with three experts who will discuss the why and the consequences of a trend that tends to divide societies.
Thursday, 8 of October, at 6.00pm, in the auditorium of the Rui Cunha Foundation, Seow Yuen Loh, Melody Lu and Icília Berenguel, are interviewed by José Carlos Matias and Nelson Moura in yet another edition of MBtv debates, in partnership with the Rui Cunha Foundation.
This conference is broadcasted on FRC Facebook page and MBtv Facebook page.
The speeches will be delivered in English.
If you cannot attend the conference at FRC Gallery but wish to participate on the Q&A, please make your registration using the Zoom Webinar link
https://zoom.us/webinar/register/WN_hvUkM5BgRUaZ8Mk5R9QkCA
Entry is free, but subject to limitation due to compliance with the regulatory health measures in force.
Don't miss!
For Macau, Further and Higher!