Love Forever – 2020.09.25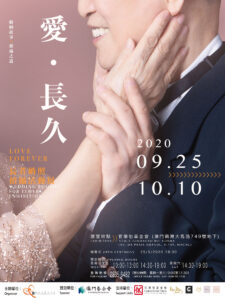 The Rui Cunha Foundation presents next Friday, September 25 at 6:30 pm, the Wedding Photos for Elders Exhibition "Love Forever", an event organized by the Macao Volunteers Association for Cultural Creativity and Arts, which brought together senior couples from Macau whose nuptials, at the time, were not captured for posterity.
The challenge was launched in the local Chinese-language press and social media before the Summer. Interested couples should be residents, over 60 years of age and more than 30 years of marriage. Nineteen couples were selected and entitled to a photo session in traditional Chinese or Western wedding attire, hairdressing and professional make-up, with the support of volunteers and the sponsorship of some companies in Macau.
The result is the exhibition that now arrives at the Rui Cunha Foundation, also a partner of the initiative. As the organization explains, in its artist board of intentions, "nowadays, when younger generations get married, they not only take romantic honeymoon trips, but also take several pictures of the wedding, both at the wedding venue and at beautiful outdoor settings. When looking at older weddings, they usually only organized the banquet with the family, and most couples did not even have special costumes or photographs of those moments. The photo is a record and a memory. How can there be no images of a once-in-a-lifetime wedding? Thus, this exhibition will allow couples to recall their sweet memories and perpetuate one of the most important moments of their lives».
The process also allowed for the interaction between the volunteers and the "exciting stories of the couples" they got to know, signaling the principle of Chinese culture that "happiness increases with age and love deepens over time", according to the same text. Among the couples involved, two are over 80 years old and 60 years of marriage!
This is the first time that the Rui Cunha Foundation has hosted an event from the Macau Volunteer Association for Creativity and Cultural Arts. The partnership has also been sponsored by the Macau Foundation and the local companies Perfect Match Wedding, Hey Bride Wedding Studio, Mads florist, Big Day Studio and CM Photo Studio.
The exhibition will be open until October 10th, 2020.
Don't miss it!
For Macau, Further and Higher!