Macau Gaming – A reality check – 2020.09.10
Macau Gaming – A reality check
September 10, 6pm (GMT+8)
Co-organization: Rui Cunha Foundation and MBtv Debates
Speakers:
Ben Lee – Managing Partner IGamix Management and Consulting Lda
David Green – Principal of Newpage Consulting
Jorge C. Oliveira – Former Commissioner for legal affairs Macau Gaming Commission
Commentaries:
Nuno Sardinha da Mata – Lawyer, Partner C&C Lawyers
Moderators:
Paulo A. Azevedo
José Carlos Matias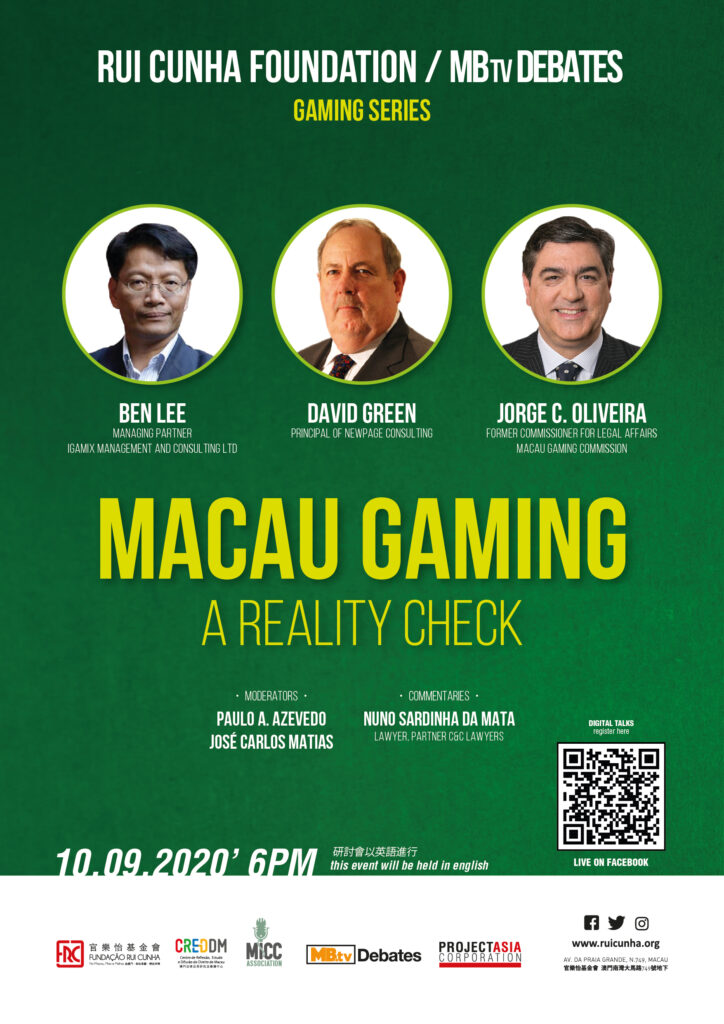 The Rui Cunha Foundation and MBtv Debates will hold on the 10th of September, at 6 pm a conference on Macau Gaming – Reality Check inserted in Gaming Series of MBtv Debates.
It's been a year to forget. The gaming results – Macau's main industry – were shattered by the consequences of the coronavirus and the city shuddered for the first time in many years.
It has been a painful wake-up call to a new reality, and game operators, although confident in the future, are now more aware that the sky has limits too, and that there must be contingency plans. They are not the only ones.
The government is also trying the impossible: to find alternatives to the current SAR economic model, so far without much success.
While we are all waiting for the miracle of a Covid-19 vaccine, Beijing is again allowing individual tourist visas. A first sign that the worst may be over. And Macau eagerly awaits signs of the new gambling concessions, which are due to be delivered in less than two years by international tender, unless the government revises the current gaming law.
A scorching theme that promotes a conference not to be missed, even by the 'weight' of the guests.
Thursday, 10 of September, at 6.00pm, in the auditorium of the Rui Cunha Foundation, Ben Lee, David Green and Jorge Oliveira are interviewed by Paulo A. Azevedo and José Carlos Matias and with comments from Nuno Sardinha da Mata in yet another edition of MBtv debates, in partnership with the Rui Cunha Foundation.
This conference is broadcasted on FRC Facebook page and MBtv Facebook page.
The speeches will be delivered in English.
If you cannot attend the conference at FRC Gallery but wish to participate on the Q&A, please make your registration using the Zoom Webinar link
https://zoom.us/webinar/register/WN_xLnrNgVJSputXa9r_olRig
Entry is free, but subject to limitation due to compliance with the regulatory health measures in force.
Don't miss!
For Macau, Further and Higher!