Accounting and Media Ethics – 2020.09.02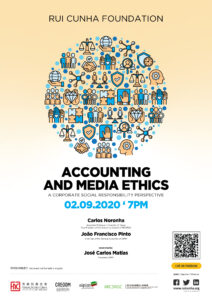 Co-organizers: FRC – CRED-DM, MICSRGC and AIPIM (Associação de Imprensa em Português e Inglês de Macau)
Speakers: Carlos Noronha – Associate Professor, University of Macau; Vice President of the Executive Council of MICSRGC; Joao Francisco Pinto – Chairman of General Assembly of AIPIM
Moderator: Jose Carlos Matias – President, AIPIM
Accounting and Media Ethics: A Corporate Social Responsibility Perspective
The Rui Cunha Foundation presents on September 2nd, Wednesday, 7:00 pm, the conference "Accounting and Media Ethics: A Corporate Social Responsibility Perspective", a co-organization by the FRC's CRED-DM (Center for Reflection, Study and Dissemination of Macau Law), the MICSRGC (Macau Institute for CSR in Greater China) and AIPIM (Macau Portuguese and English Press Association).
In this seminar, we will look into the importance of media in the conduct of research in the areas of accounting, accountability and CSR. These branches of research often rely on the input of social media information (corporate reports, newspapers, and other social media) and, therefore, the quality and reliability of these media reports represent an important concern, not only in the academic field, but also in terms of realistic societal concerns.
The two speakers – a seasoned journalist and a reputable researcher of CSR – will provide insights as to how media and social accounting research can go hand-in-hand. This event will be held in English.
Don't miss it!
For Macau, Further and Higher!