Macau's Gaming Industry Beyond Covid-19 – 2020.04.15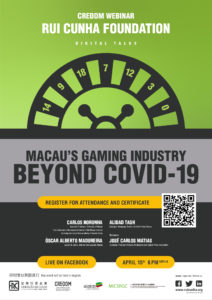 Rui Cunha Foundation
CREDDM Webinar
Digital Talks
April 15th, 6pm GMT+8
This webinar is open to public on our FRC Facebook page.
The speeches will be delivered in English.
For registration and certificate:
https://zoom.us/webinar/register/WN_0KQZFNXCTey_2ZrZneBfVA
Note: Only the first 100 registrations will be able to attend the Zoom Webinar, but you can still follow the event on FRC Facebook streaming.
About the session:
The crisis brought by the Covid-19 pandemic poses unprecedented challenges at a global scale, taking a heavy toll on people's lives and businesses.
Macau's core industry, gaming and tourism, has been dealt a significant blow. As the city is weathering the storm, all eyes are on the "new normal" which will surface once the crisis is over. Corporate social responsibility and sustainability are key words to pave the way for the recovery.
Speakers:
Carlos Noronha, Associate Professor University of Macau; Vice Chairman of the Executive Council of the Macau Institute for Corporate Social Responsibility in Greater China;
Alidad Tash, Strategist, Managing Director at 2nt8 Limited, Macau;
Oscar Alberto Madureira, Lawyer at Lektou, Notaries and Lawyers, Macau
Moderator:
José Carlos Matias, Journalist, President of Macau Portuguese and English Press Association.