Take My Eyes
VI Ciclo de Cinema CRED-DM – Domestic Violence
2019.07.10  . Na Fundação Rui Cunha . 19:30 . Entrada Livre
Take My Eyes (2003)
Synopsis: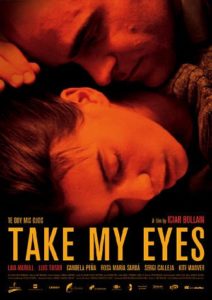 One winter night, Pilar runs away from home. With her, she takes only a few belongings and her son, Juan. Antonio soon sets out to look for her. He says Pilar is his sunshine, and what's more, "She gave him her eyes"…
The film was highly praised for the emotional truths of its portrayal of domestic violence, and the internal conflicts of the protagonists.
The film won seven Goya Awards in 2004, including Best Picture, Best Director for Bollaín, Best Lead Actor for Tosar, Best Lead Actress for Marull, and Best Supporting Actress for Peña. This film was also nominated for the Ariel Award in 2005 in the category Best Iberoamerican Film.