Genetic Engineering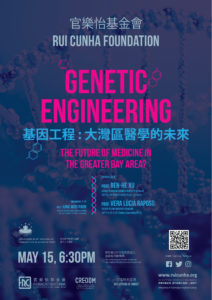 In November 2018, Chinese scientist He Jiankui, of the Southern University of Science and Technology (SUSTech), in Shenzhen, announced that he had manipulated the genes of several embryos, leading to the birth of the world's first genetically modified babies.
The announcement has generated critical reactions all over the world and fuelled the already heated discussion about genetic manipulation. On the other hand, the incident solidified China's position as one of the greatest leaders in the field of genetic manipulation and as one of the leading investors in research in this area.
One of the key goals of the Greater Bay Area is scientific development, including genetic manipulation, with Shenzhen being one of its major research centres. However, the other cities of Greater Bay Area, including Macao, should participate in this discussion, as genetic manipulation may become an integral part of the medicine of the future for all of us.
On May 15 (Wednesday), at 6.30pm, the Rui Cunha Foundation invites Macao to understand what is involved in genetic manipulation (currently known as "gene editing") from different perspectives: scientifically, legally and ethically. The professors of the University of Macau Ren-He Xu (Faculty of Medical Sciences) and Vera Lúcia Raposo (Faculty of Law) will be at Rui Cunha Foundation to discuss whether the medicine of the future will use genetic manipulation and how will it do it, what dangers to fear and what benefits to expect.