Latin American Film Shows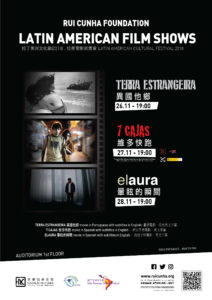 Eventos realizados na Fundação Rui Cunha, inseridos no Festival Cultural Latino Americano 2018
Entre os dias 26 e 28 de Novembro, serão exibidos no auditório da Fundação Rui Cunha, 3 filmes, parte integrante do ciclo de cinema de filmes da América-latina, e no dia 29 de Novembro será realizado um workshop de Tango.
Estes eventos fazem parte do programa do Festival de Cultura América Latina 2018.
http://www.latinamericanfestival.org/. 
O ciclo arranca dia 26 com o filme "Terra Estrangeira" (1995), que retrata a solidão vivida pelos imigrantes e que foi considerado o melhor filme do ano no Brasil, selecionado em mais de 40 festivais à volta do mundo e está na lista dos 100 Melhores Filmes Brasileiros de todos os tempos segundo a Associação Brasileira de Críticos de Cinema (Abraccine).
A narrativa a preto-e-branco conta a história do jovem Paco (Fernando Alves Pinto) que, na altura do governo de Fernando Collor de Mello, em 1990, fica sem a sua mãe, Manuela (Laura Cardoso). Paco aceita então a proposta de um homem desconhecido, Igor (Luís Mello), para entregar uma misteriosa encomenda em Lisboa, para que possa depois ter dinheiro para seguir viagem até à vila onde nasceu e cresceu a sua mãe, em Espanha. Já em Lisboa, conhece Alex (Fernanda Torres), brasileira, namorada de Miguel (Alexandre Borges), e envolvem-se todos num esquema de contrabando, que torna as suas vidas num pesadelo.
No dia 27 será exibido o filme "7 Cajas" (2012), que apesar de ser um filme de baixo custo, é considerado como reminiscente de "Slumdog Millionaire", e para além de tudo foi ainda declarado como "interesse cultural" pela Secretaría Nacional de Cultura de Paraguay. "O filme projecta para além das suas fronteiras, com uma exímia expressão cinematográfica do ambiente sociocultural dos sectores populares comuns a muitos países latino-americanos". Victor, um rapaz de 17 anos tem de entregar 7 caixas cujo conteúdo desconhece para ganhar uns míseros 100 dolares…
O ciclo encerra no dia 28 com "El Aura"(2005), um filme argentino, de gênero suspense psicológico, realizado pelo escritor-director Fabián Bielinsky, autor de um dos filmes mais aclamados da cinematografia argentina "Nove Rainhas"(2000). O filme narra a história do taxidermista Esteban Espinosa (Darín), um epilético que muitas vezes fantasia em cometer o crime perfeito. Enquanto estava a caçar na Patagônia, Espinosa mata acidentalmente Dietrich (Rodal), e descobre que ele é de fato um criminoso. Inesperadamente isso traz-lhe uma oportunidade de executar um verdadeiro crime: assaltar um camião blindado que transportava o dinheiro de um casino. Espinosa projeta as fantasia no planeamento e inevitavelmente funde-se nele…
Para além do ciclo de cinema, haverá ainda um workshop de tango, não só inserido no Festival de Cultura América Latina 2018, mas também no Festival de Argentina 2018 que terá lugar no dia 29 de Novembro pelas 19h, na galeria da Fundação Rui Cunha. Este workshop oferece uma oportunidade a entusiastas que tenham interesse em conhecer e experimentar este género de dança.

29.11 – 19:00 / 20:30 – 探戈工作坊 Dance Tango Workshop

A inscrição deverá ser feita em:

https://docs.google.com/forms/d/e/1FAIpQLSd4J83BTprzkTnQVTFSyCn7YL9rENlUMCgmQGOobaAA1ADt0g/viewform
Sinopses dos filmes
26/11/2018, 19:00

Rui Cunha Foundation

(Auditorium, 1/F) 

Portuguese & English Subtitle

100 mins.

Trailer:

https://www.youtube.com/watch?v=wN5066LOwiA

Terra Estrangeira  *  Foreign Land  (Brazil)

Directors: Walter Salles, Daniela Thomas

Award: Golden Rosa Camuna – Bergamo Film Meeting, 1996

Audience Award – SESC Film Festival, Brazil, 1996

Story: After the death of his mother, a young Brazilian decides to leave his country and travel to her native land, as she used to dream with, as an Spanish immigrant. In a foreign land, he finds love and danger as he meets a Brazilian waitress and takes smuggled goods with him in order to pay for his travel.

27/11/2018

19:00 

Rui Cunha Foundation

(Auditorium, 1/F) 

Spanish

English Subtitle

105mins

Trailer:

https://www.youtube.com/watch?v=AfNos-RT0Kc

https://pragda.com/film/7-boxes/

7 Cajas  *  7 Boxes, (Paraguay)

Directors: Juan Carlos Maneglia, Tana Schémbori

Award: Best Foreign Film, Spanish Language – Argentinean Film Critics Association Awards, 2015; Knight Ibero-American Competition – Miami Film Festival, 2013

Story:  Reminiscent of Slumdog Millionare, 7 Boxes was declared a film of cultural interest by the National Secretary of Culture of Paraguay.It's Friday night in Asunción, Paraguay, and the temperature is sweltering. Víctor, a 17-year-old wheelbarrow delivery boy, dreams of fame and owning a fancy TV set from the infamous Mercado 4. He's offered a chance to deliver seven boxes with unknown contents in exchange for a quick one hundred US dollars. But, what sounds like an easy job soon becomes complicated. Something in the boxes is highly coveted and Víctor and his pursuers quickly find themselves caught up in a crime they know nothing about.

28/11/2018 

19:00

Rui Cunha Foundation

(Auditorium, 1/F)

Spanish

English Subtitle

138 mins.

Trailer:

https://www.youtube.com/watch?v=Rw3lZzTy5QE

El Aura  *  The Aura  (Argentina)

Director: Fabián Bielinsky

Award: Best Film – Argentinean Film Critics Association Awards, 2006

Best Director – Cartagena Film Festival, 2006

Story: In Buenos Aires, the epileptic taxidermist Esteban Espinosa is a painstaking man that likes to plot the perfect heist. When his wife leaves him, he accepts the invitation of his friend Sontag to hunt in a forest. They rent a cabin owned by Diana Dietrich and her husband Carlos Dietrich but soon they have an argument and Sontag returns to Buenos Aires. Esteban stays alone and while hunting a deer, he accidentally kills Dietrich near a shed. Esteban opens the shed and finds a plan for the heist of an armored truck. When he returns to the cabin, he stumbles with the criminals Sosa and Montero that are seeking out Dietrich. Now Esteban has the chance to execute the perfect crime he has dreamt on.