4º Filme do Ciclo de Cinema CRED-DM – The Girl With The Dragon Tattoo
Na Casa Garden . 19:00 . Entrada Livre
Sinopse:
Mikael Blomqvist, jornalista e fundador da revista "Millenium", dedica a sua vida a revelar o crime e a corrupção que minam a sociedade sueca. Como resultado, tem vários inimigos e é tido como culpado num caso de difamação.
Um dia é procurado por Henrik Vanger, empresário de renome obcecado em compreender as razões que levaram ao desaparecimento da sua sobrinha, há mais de 40 anos, durante uma reunião familiar. Vanger acredita que alguém do seu importante e disfuncional clã poderá estar relacionado com o sumiço de Harriet, cujo corpo nunca foi encontrado.
O empresário faz então uma proposta irrecusável ao jornalista: dá-lhe acesso total à sua vida, documentação pessoal e dados familiares em troca da solução para o desaparecimento da rapariga. Com a ajuda da inteligência e conhecimentos informáticos da estranha Lisbeth Salander, uma hacker profissional com um passado misterioso, Mikael vai encontrar a história da sua vida.
Realizado por Niels Arden Oplev, "Millennium 1 – Os Homens Que Odeiam As Mulheres" é a adaptação ao grande ecrã do primeiro tomo da trilogia "Millennium" de Stieg Larsson, que morreu, em 2004, antes de ver a sua obra tornar-se um fenómeno da literatura mundial.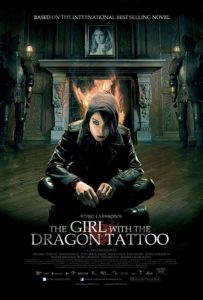 Com realização de Michael Mann ("O Informador", "Inimigos Públicos") e argumento seu em parceria com Morgan Davis Foehl, um "thriller" de acção sobre os perigos reais da sociedade da informação. O elenco conta com Chris Hemsworth, Viola Davis, Tang Wei e Wang Leehom, entre outros.
Storyline:
Forty years ago, Harriet Vanger disappeared from a family gathering on the island owned and inhabited by the powerful Vanger clan.
Her body was never found, yet her uncle suspects murder and that the killer is a member of his own tightly knit but dysfunctional family.
He employs disgraced financial journalist Mikael Blomkvist and the tattooed, ruthless computer hacker Lisbeth Salander to investigate. When the pair link Harriet's disappearance to a number of grotesque murders from almost forty years ago, they begin to unravel a dark and appalling family history; but, the Vangers are a secretive clan, and Blomkvist and Salander are about to find out just how far they are prepared to go to protect themselves.