3º Filme do Ciclo de Cinema CRED-DM – Blackhat
2018.07.11
Na Casa Garden . 19:00 . Entrada Livre
Título original: Blackhat 

De: Michael Mann

Género: Drama, Acção

Classificação: M/12

Outros dados: EUA, 2015, Cores, 133 min.
Sinopse:
Nicholas Hathaway foi condenado a 15 anos de prisão por crime informático. Quando as autoridades norte-americanas encontram um código seu num "malware" ("software" malicioso, vírus) que desencadeou um ataque terrorista, decidem contactá-lo. O que lhe propõem é tentador: se ele concordar em colaborar nas investigações e enfrentar um poderoso "hacker" que ameaça os sistemas de segurança do planeta, a sua pena será comutada. Esta oportunidade vai juntá-lo a um velho amigo, mas irá colocá-lo também no centro de um jogo de poder entre os governos norte-americano e chinês, assim como uma rede internacional de ciber-crime que o obrigará a percorrer várias lugares do mundo, dos EUA à China, passando pela Indonésia ou Malásia.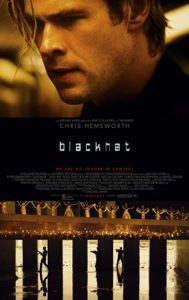 Com realização de Michael Mann ("O Informador", "Inimigos Públicos") e argumento seu em parceria com Morgan Davis Foehl, um "thriller" de acção sobre os perigos reais da sociedade da informação. O elenco conta com Chris Hemsworth, Viola Davis, Tang Wei e Wang Leehom, entre outros.
Storyline:
After a Hong Kong nuclear plant and the Mercantile Trade Exchange in Chicago are hacked by unknown perpetrators, a federal agent (Viola Davis) proposes that the FBI work with China to find the cyber-criminals. The leader of the Chinese team, Chen Dawai, insists that convicted hacker Nick Hathaway (Chris Hemsworth) be released from prison to help with the investigation. As Nick and his comrades chase their quarry, it becomes evident that the hackers have a sinister motive for their actions.