1º Filme do Ciclo de Cinema CRED-DM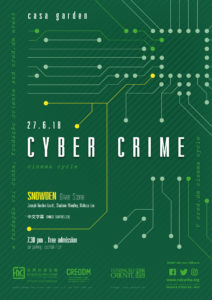 2018.06.27 . Na Casa Garden . 19:00 . Entrada Livre
Snowden (2016)
Director: Oliver Stone
Stars: Scott Eastwood, Shailene Woodley, Nicolas Cage, Joseph Gordon-Levitt, Zachary Quinto
EUA/ALE/FRA, 2016, Cores, 134 min.
Sinopse:
Edward Joseph Snowden (Joseph Gordon-Levitt) é um ex-militar e antigo analista informático norte-americano que se tornou denunciante das práticas da NSA, a agência de segurança nacional dos EUA.
A revelação foi feita em 2013, através de milhares de documentos qualificados como "estritamente confidenciais" enviados às redacções dos jornais The Guardian e The Washington Post.
Após as denúncias, que chocaram o mundo, o Governo norte-americano apresentou acusações formais contra Edward Snowden por exposição de dados secretos do governo, onde foram revelados, entre muitas outras coisas, detalhes do projeto de monitorização global, denominado PRISM, que acedia a conversas telefónicas e transmissões na Internet de cidadãos de todo o mundo.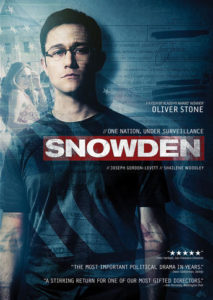 Depois de múltiplos pedidos de asilo político a vários países, sempre negados, a 1 de agosto de 2013, Snowden entrou em território russo após ter recebido documentação do Serviço de Migração que lhe concedeu asilo temporário naquele país.
Um filme biográfico sobre o homem que deixou o mundo em choque após revelar uma teia de espionagem à escala mundial perpetrada pelos serviços de espionagem norte-americanos.
A realizá-lo está o veterano Oliver Stone, que já fez filmes sobre George W. Bush ("W.", de 2008), "Doors" (1991) ou "Nixon" (1995), e que também escreve o argumento em parceria com Kieran Fitzgerald.
Para além de Gordon-Levitt no papel de Snowden, o filme conta ainda com Shailene Woodley, Melissa Leo, Zachary Quinto, Tom Wilkinson, Scott Eastwood, Logan Marshall-Green, Timothy Olyphant, Ben Schnetzer, LaKeith Lee Stanfield, Rhys Ifans ou Nicolas Cage, entre outros.