Environmental Law & Policy

Please find below the link of the page created for the ELP Course:
A Fundação Rui Cunha e a Universidade de São José celebraram, em Julho de 2016, um protocolo de Cooperação para a área da formação jurídica de curta e média duração.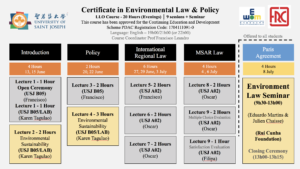 Dando seguimento ao estatuído, é agora apresentado este primeiro curso de Direito do Ambiente com um total de 20 horas.
Sem qualquer requisito obrigatório no que ao perfil de participantes diz respeito, o curso decorrerá nas instalações da Universidade de São José, tendo início marcado para o dia 13 de Junho, às 19h00.
O curso realizar-se-á de 13 de Junho a 6 de Julho, terças e quintas-feiras, das 19h e as 21h.
As aulas serão lecionadas em língua inglesa, e contarão com a colaboração de vários formadores.
Com um cariz iminentemente prático, o curso contará, para além das habituais aulas teóricas, com aulas de laboratório e um seminário internacional no final.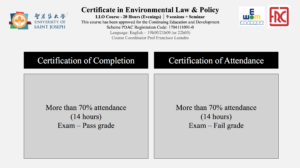 Todos os formandos terão um certificado de participação (caso assistam a 80% das aulas), podendo optar pelo diploma, caso se submetam a um exame final.
Este Curso faz parte do Programa de Desenvolvimento e Aperfeiçoamento Contínuo da DSEJ, podendo todos os participantes recorrer ao subsídio individual de apoio.
Aceitam-se inscrições até ao primeiro dia de aulas.
Para mais informações consulte o link disponível para o efeito.