Das Land des Lächelns
The Orient in Western Opera : Das Land des Lächelns (The Land of Smiles)
First performed in Berlin, in 1929, is a romantic, Chinese-themed operetta composed by Franz Lehár, a composer most famous for his operettas which include the favourite The Merry Widow.
Moderator: SHEE VÁ, FREDERICO RATO
23/7/2015   18:30
Rui Cunha Foundation Gallery
Event conducted in Portuguese, simultaneous interpretation in Cantonese
Cocktail served
Free admission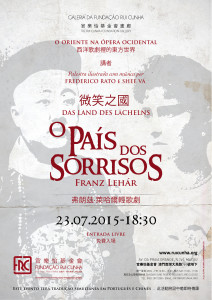 The Land of Smiles is an operetta in three acts, set in Vienna and China in 1912, which stands out due to its Chinese setting and its bittersweet ending – both extremely rare in operetta of late 19th and the early 20th century. It quickly became tremendously successful.
The story – one of love and duly across cultural boundaries – opens when the Viennese Lisa marries the Chinese Prince Sou-Chong and returns with him to his homeland despite the warmings of friends and family. She soon finds it difficult to accept the demands of the Chinese way of life, especially the requirement that Sou-Chong must take other wives. The Prince's assurances do little to calm Lisa, whose affection for the Prince has gradually transforming to hatred. She decides at last to leave the Prince and return to Vienna.
The ending becomes doubly sad when Princess Mi, the sister of the Prince, falls in love with the Viennese official Gustav. In spite of all, the Prince chooses to follow the rule of his custom: always smile.
(Adapted from Opera Hong Kong)