Paths of Glory
PATHS OF GLORY – Estados Unidos, 1957
Dia 24 de Junho, na Casa Garden (Fundação Oriente), a partir das 19h00
II Ciclo de Cinema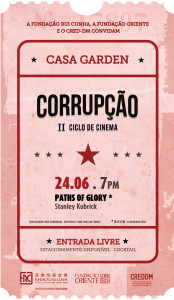 Ficha Técnica
Realização Stanley Kubrick Interpretação Adolphe Menjou Christiane Kubrick George Macready Kirk Douglas Ralph Meeker Argumento Stanley Kubrick
A partir de um romance de Humphrey Cobb, Kubrick aborda a questão dos fuzilamentos militares no interior do exército francês durante a primeira Grande Guerra. Kirk Douglas é o oficial que vai defender os três soldados "escolhidos" para serem julgados e servirem de exemplo.
Em 1916, durante a Primeira Guerra Mundial, Mireau (George Meeker), um general francês, ordena um ataque suicida. Como nem todos os seus soldados puderam lançar-se ao ataque ele exige que a sua artilharia ataque as próprias trincheiras.
Perante a recusa em cumprir a ordem, ordena o julgamento e a execução de todo o regimento, alegando cobardia no campo de batalha, e justificando, desta forma, o fracasso da sua estratégia militar. Após concordar na redução do número de execuções, acaba por decidir que apenas três dos seus soldados serão os escolhidos para servirem de exemplo.
O coronel Dax (Kirk Douglas) não concorda e decide interceder de todas as formas a fim de tentar suspender tamanha decisão.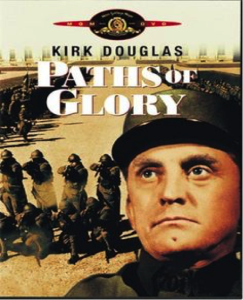 During World War I, commanding officer General Broulard (Adolphe Menjou) orders his subordinate, General Mireau (George Macready), to attack a German trench position, offering a promotion as an incentive. Though the mission is foolhardy to the point of suicide, Mireau commands his own subordinate, Colonel Dax (Kirk Douglas), to plan the attack. When it ends in disaster, General Mireau demands the court-martial of three random soldiers in order to save face.