Murmur of Impermanence
Promotion Project of Macao Artists : Murmur of Impermanence – paintings of Andre LUI CHAK KEONG
16-27/6/2015
Opening: 15/6/2015  18:30
Rui Cunha Foundation Gallery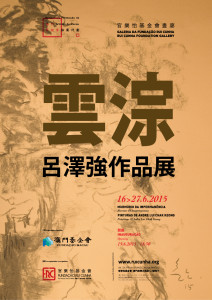 I have been inspired by Lou Lim Ieoc Garden for my paintings since 2008. Though the garden is not big, when I walk in between the rock works, bamboo grove, ponds and pavilions, I observe the constant changes at the gardenscape and I fathom, in between light and shadow, that, changes also take place at everything in the world. When naming the exhibition, I was inspired by the Chinese character Yun Cong (cloud and soft low sound made by a stream) that I saw in between the rock works.  The inconstant cloud and stream are an analogy to my quest, or the subject, in this exhibition, therefore, I name this exhibition Yun Cong  in Chinese and Murmur of Impermanence in English.
Andre Lui,  13/2/2015
Andre Lui – Born in Macao in 1971, Andre Lui Chak Keong works as an architect and artist. Besides architecture, he is interested in all different types of visual art activities. He is also actively involved in painting, art installations, photography and video, and he regularly participates in collective and individual exhibitions.
In 2007, the art installation entitled 'Macao's Gondola', created by Andre Lui and his brother, Lui Chak Hong, was shown in the Macao Pavilion at the 52nd International Art Exhibition of the famous Venice Biennale.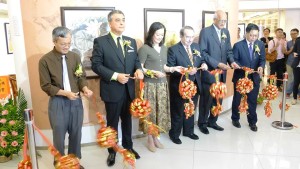 Individual art exhibitions
2015   Individual painting exhibition "Murmur of Impermanence" organized by Macao Foundation in Rui Cunha Foundation Gallery, Macao
2013   "Urban Nomadic – Installation by Andre Lui Chak Keong" in Macao Art Museum
2008   Individual painting exhibition "The World of Colours" in Creative Macao, Macao
2003   Individual watercolor painting exhibition in public libraries of Macao
1998    Individual painting exhibition "Barroco" in Portuguese Bookshop Gallery, Macao
1998    Individual watercolor painting exhibition " Água, Saudade Ardente" in Gallery of Missão de Macau in Lisbon
1995    Individual painting exhibition in Macao Cultural Plaza Bookshop Gallery, Macao
Collective art exhibitions
2015  "Homage to Masters who inspired us" in OX Warehouse, Macao
2014  the installation "Listen to the Heart" was been show at 14th International Architecture Biennale in Venice, Italy
2011  "In the Interstices of Memory: Macao Contemporary Drawings" organized by the Macao Art Museum
2010    Exhibition of contemporary art in OX House Espaco Artistico do Albergue da Santa Casa da Misericodia, Macao
2010    Exhibition " Spring" at MGM GRAND, Macao
2008    Exhibiton of Macao contemporary art in AFA gallery, Beijing
2007    the installation "Macao's Gondola" created by Andre Lui and his brother, Lui chak hong, was been show at 52nd International Art Exhibition – Venice Biennale in the Macao Pavilion, Italy
2003    Exhibition of contemporary art in OX House Espaco Artistico do Albergue da Santa Casa da Misericodia, Macao
2002    17th Exhibition of contemporary art of Philippe Charriol Foundation, Hong Kong
2001    Exhibition of Installation, Espaco Artistico do Albergue da Santa Casa da Misericodia, Macao
2000    Exhibition of contemporary art in Centro UNESCO, Macao
Major architectural projects
2012  Lu Ban ancient Chinese woodworking exhibition room (built)
2011  New office building for the Harbour Authority ( design competition)
2010     Project of the Nacha Temple Museum (built)
2008  Office of Jurismac law firm (built)
2008  Macao New Central Library ( design competition)
2008  Macao Pavilion at Expo 2010 ( design competition)
2007     Project of the Zheng Guanying Memorial Museum (built)
2007  Pavilion of the People's Republic of China at Expo 2010 ( international competition)
2003     Sacred Art Museum of S. Joseph Seminary of Macao (built)
2003    participation in the project for the Extension building of Robert Ho Tong Library (built)
2003    participation in the restoration project of the Tak Seng On Pawnshop (built)
2002  Project for the Great Egyptian Museum, Cairo ( international competition)
2002    participation in the project for Central Library of Macao (built)
2000  participation in the project for Restaurant Vinha, Macao (built)