O CRED Goes to School – Macao Portuguese School
The CRED Goes to School – APRIL 21, from 9 am to 16:00 with the first and second cycle the Macao Portuguese School!! Open Day CRED-DM.
NOT TO MISS in Rui Cunha Foundation.
More information www.creddm.org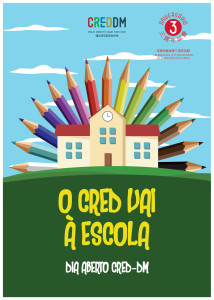 Open Day CRED-MD – Portuguese School of Macau
This year we will have the participation of 65 students of the first and second cycles of the Portuguese School of Macau, which participate in various activities, among which, a business notebook on environmental protection and still a CRED-DM game.
Each student will take home a second activity book, which can be completed with the help of their parents.
  Always with the law as a backdrop, this year the CRED elects Environmental Protection and ways to help save the planet as main motto of its Open Day!
Soon there will be more news !!