Dan Phillips Quartet Live in Macau
Early Summer Jazz Series:  Dan Phillips Quartet Live in Macau
3/5/2014,  17:00
Rui Cunha Foundation Gallery
Cocktail served
Free admission
The Early Summer Jazz Series is presenting the 'Dan Phillips Quartet' Live in Macau to the Jazz lovers. Organized by Macau Jazz Promotion Association, the Jazz concert will be held on 4 of May, 8:00pm, at the small auditorium of Macau Cultural Centre.
Dan Philips, renowned American jazz musician and educator, has issued six albums and a tutorial video under his own name. "An elite and highly imaginative composer… Philips has a very unique guitar style" by allaboutjazz.com.
Philips's achievement on jazz education is no less then his music career, that he had been teaching at Minnesota State University, and has been teaching at the jazz departments of all three universities of Thailand (Mahidol, Rangsit and Silpakorn). Philips is the pioneer of jazz education. moreover a well known guest of jazz festivals around the world.
For this very first show in Macao, he will be playing with top musicians from Thailand: Pisut Pratheepasean on saxophone,Ow Pornchart Viriyapark on double bass and Hong Chanutr Techatana-nan on drums, they will be performing Philips's original works, so don't miss this!
The 'Dan Phillips Quartet' Live in Macau will give you a wonderful kick off to the summer. Ticket $120 each available at Macau Ticket box office. Moreover, for educational purpose, the members of the quartet will be conducting an open master class for Macao musicians and music lovers. For enquiry: info@macau-jazz.org.
Masterclass (Free admission): 3rd May, 2014 (Sat) 5:00pm Rui Cunha Foundation Art Gallery (Av. Praia Grande, N749, R/C)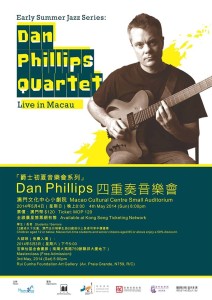 Press Quotes "Phillips provides lush and full chord voicings in just the right places, and solos effortlessly. His tone is clean and traditional while his improvised lines are much more in the free jazz genre in their direction. Dan Phillips is an interesting player who blends a modern and free approach with a more mainstream tone." Review of "Bangkok Edge" Vince Lewis Guitar International 2013 "Phillips innovative and improvisational mindset is still held together with the glue that is his strict belief in melody. He seems to know, without hesitation, when to break free of the textbook, yet recovers back to the basic principles of arrangement and composition. As a fine navigator, Phillips sets his compass by pure gut instinct, a refreshing trait of a leader!" "Rising above the nauseam of the traditionally bland attempts from others in the past, Phillips always seems, in all his work, to strive and succeed in keeping the sound fresh and expressive in feel and style." Review of "Bangkok Edge" Karl Strober Cadence Magazine July 2013 "When Phillips cuts loose he's as exciting a guitarist as there is, though he never abandons melody. He gets under the skin of the composer and inhabits a tune, reworking it in his own idiom. And as his originals here and on his previous albums as leader demonstrate, he creates pretty high standards of his own design." Review of "Bangkok Edge", allaboutjazz.com, 2012 "Phillips is, without question, a skilled guitarist. His playing is fluid and understated, but he's not above progressing through lengthy jams and pushing things to their limits. He solos deeply rather than broadly, tunnelling in to find the consistency of the notes and probing their meaning with sleek flourishes and impactful holds." Review of "Bangkok Edge, Canadian Audiophile, 2012 Phillips in particular stands out for his fluid, whimsical articulations that's alternately fleet-fingered and thoughtful, but always fresh and not clichéd. Phillips, as is made clear on this song, is one of those "looks hard, sounds effortless" type of guitar players. Review of "Bangkok Edge, Something Else Reviews, 2012 "one of the most original guitarists and composers currently on the jazz scene". review allaboutjazz.com 2010 "brilliant recording of contemporary improvisation at it's best….. an elite and highly imaginative composer……….Phillips has a very unique guitar style." Review of Dan Phillips Trio CD Destination Unknown, Jazz Improv Magazine 4/08 "he opens the vista in a swell of notes that cut, roll and sweep ahead in a near torrent…..The textures weave and bob, taking flight on the wings of their imagination." (review of Dan Phillips Trio "A Moment of Clarity"allaboutjazz.com 1/2005 Cheers Dan Dan Phillips www.danphillipsmusic.com www.myspace.com/danphillipstrio http://www.music.su.ac.th/