May Breezes Silvia Hong Cello Recital
Organizer: Macao Strings Association
Co-organizer: Rui Cunha Foundation
Date: 17th May 2014
Location: Rui Cunha Foundation Gallery
Time: Approximately 1.5 hours
Program
1. Song without words, op.62 .1,         Felix Mendelssohn(1809-1847)
2. Song without words, op.109           Felix Mendelssohn(1809-1847)
3. Cello sonata in G minor, op.65      Fryderyk Chopin(1810-1849)
I.  Allegro moderato
II. Scherzo (Allegro con brio)
III.Largo
IV. Finale (Allegro)
Hong Si Man, cello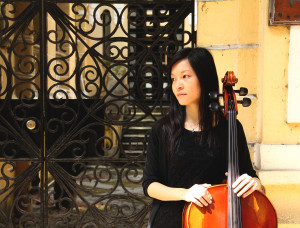 Born in Macao, Hong Si Man earned her bachelor's degree in cello performance at the University of Houston and her master's in cello performance at the Royal Northern College of Music. During her studies, she received scholarships from those schools as well as the Cultural Institute of Macao and the Macao Foundation.
Hong collaborated with the former Macao Chamber Orchestra, Guangzhou Symphony Orchestra and Shenzhen Symphony Orchestra as a soloist, performing in the "Flourishing Art." She also performed Kabalevsky cello concerto as a soloist for the Macao Orchestra.
Hong also has worked for the Macao Orchestra, Macao Conservatory and the Macao Polytechnic Institute. In recent years, Hong has always been invited to give solo and chamber concerts in Taiwan.