1/8 Exhibition
Oxfam: 1/8 Exhibition
Opening:27/3/2014  15:30 ﹣16:30
Rui Cunha Foundation Gallery
N. 749, Avenida da Praia Grande, G/F, Macao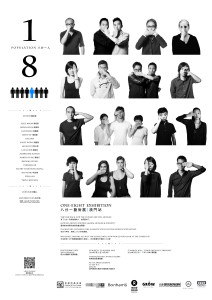 They are back, for the 1/8 population who are still hungry.  
One-eighth exhibition
How would you draw global hunger? In 2012, thirteen Hong Kong artists expressed ideas about poverty and hunger in ONE-SEVENTH Exhibition, a collaboration between Oxfam Hong Kong and Groundwork Architecture+Urbanism Ltd. At that time, one out of seven people went hungry every day.
The right to food is a basic human right, yet almost one-eighth of our population still lives in hunger. So the exhibition is back, now titled "ONE-EIGHTH Exhibition", and with two new artist from Macau joining the show. The art will tour both Hong Kong and Macau to inspire as many people as possible to join the GROW campaign for a fair food future.
Oxfam Hong Kong
Oxfam is dedicated to fighting poverty and inequity worldwide. The international and independent development and humanitarian organisation tackles poverty in four main ways: sustainable development in poor communities, disaster relief, local and global advocacy, and education with Hong Kong youth. Established in Hong Kong in 1976, Oxfam Hong Kong is a founding member of Oxfam, an international confederation that has assisted poor people in 92 countries. Oxfam Hong Kong alone has supported poor people in over 70 countries/regions.
In 2012, Oxfam Hong Kong – Macau Office was registered as a non-profit organisation in Macau. We will be launching a series of programmes to introduce Oxfam's work to the people of Macau, and inviting them to join our fight against poverty. We envision a world free of poverty where women and men enjoy wellbeing and rights.