First Impressions
The First Impressions of Macau X Christophe Charpenel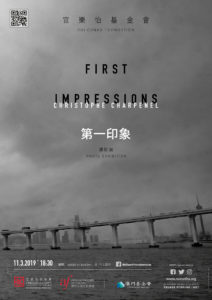 The Alliance Francaise de Macao focuses on showcasing and connecting Macao to France and Europe through the platform of art.
In October 2018, The Alliance Francaise gave a challenge to Christophe Charpenel, an infamous photographer in the world of Jazz, who worked with most of the best artists in the scene. Christophe is known for his ability to capture the meaningful moments in the quick paced language of improvisation. The idea of this project was to have him jump out of his comfort zone, to switch roles, acting as the improvisor that he is usually working with. Christophe then was invited to Macao for a one-week residency, no specific instructions or suggestions were given. Just one man and his camera, capturing the genuine moments of Macao.
The opening ceremony of exhibition will take place at the Fundação Rui Cunha at 18:30 on Monday, March 11th 2019. 
The exhibition will be held from March 8th to 19th , 2019. For enquiries, please call Alliance Francaise de Macao at 28965342