French Films Screening at Fundação Rui Cunha
Four short French films screening at Fundação Rui Cunha on 28th June 
à Festival Premiers Plans D'Angers Introduction
Festival Premiers Plans d'Angers 30 years at Macau – the best four short films screening is scheduled at Fundação Rui Cunha on 28th June 2018. It aims at promoting French culture and art in the event. This event is co-hosted by Alliance Française Macao and Rui Cunha Foundation, in support of Consulate General of France in Hong Kong & Macau and Institut français and in partnership with the Macao Academy of Cinematic Arts (MACA) at MUST.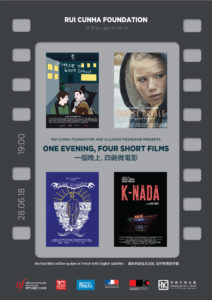 The Festival Premiers Plans d'Angers is founded in 1989 by focusing on the discovery of new talents in European cinema and on revealing its cultural heritage. It has become a significant high point in the cultural year. It is recognised by artists and professionals alike, embraced by a large group of curious and enthusiastic audience. The purposes of the festival is to discover new European directors from a fine selection of a hundred first films presented in six competitive sections.
…
Four short films were finely selected for screening which were presented as the best four short films in 30 years. Chasse Royale and L'Âge des sirens were awarded for Grand Jury Prize French Short Films 2017 and Audience Award French Short Films 2017 respectively.
4 short films introductions
Total length 1h40mins
L'Âge des sirens
Dir : Héloïse Pelloquet
France – 2016 – 27mins
Summer on an island. When school starts after the summer break, Mattis and his friends will go to a high school on the continent. Meanwhile, Mattis works on a fishing boat. In the port and on the sea, he discovers a world he never knew before.
K-Nada
Dir: Hubert Charuel
France – 2014 – 22min
Two brothers that are completely different, are lost on the road of their absurd dreams. In two days, they have to go to Amsterdam, Greg for a DJ competition, Valentin to collect kilos of marijuana.
Monsters Turn Into Lovers
Dir: Yann Delattre –
France – 2015 – 23mins
Between her work, her boyfriend, her Japanese roommate, Julie moves forward resolutely and awkwardly in life. Without seeing Sébastien who tries even with his shyness and clumsiness to seduce her. They may be meeting during night while forgetting that there is always a tomorrow.
Chasse Royale
Dir: Romane Gueret , Lisa Akoka
France – 2016 – 28 min 24 sec
Angélique, 13, is the eldest child of a large family living in the suburbs of Valenciennes. One day at school, she is asked to audition for a film.
Screenings 28/06 (Thursday) at 19:00
🎬L'Âge des sirens
K-Nada
Monsters Turn Into Lovers
Chasse Royale
in French with English subtitles.
Free ticket, limited seats