Breastfeeding, Easier Learnt Than Done? Practical Tips for New Parents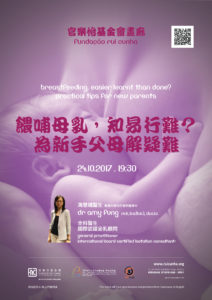 In every breastfeeding mother's mind, there are ten thousand questions about parenting. The doubts and worries they have include slow weight gain, allergies, frequent night-waking, solid refusal, and nursing strikes, etc.
We at the Rui Cunha Foundation and Macau Breastfeeding & Nurturing Promotion Association understand the concerns of the breastfeeding mothers. In order to answer those burning questions and to allow anxious mothers a better handle of breastfeeding, together with the C&C Club, we are pleased to present to breastfeeding families and care-takers the talk "Breastfeeding, Easier Learnt Than Done? Practical Tips for New Parents" on October 24, 2017 at the Rui Cunha Foundation Gallery.
We are extremely excited to have Dr Amy Wai Han Fung from Hong Kong as our guest speaker. Dr Fung received her Bachelor of Science degree in Internal and General Medicine from the University of Hong Kong. She has practiced on a full time basis at the Hong Kong Department of Health's Maternal and Child Health Center for 20 years before entering into private practice. In 2009, she became an International Board Certified Lactation Consultant®. She has had active contribution in teaching healthcare professionals and the production of the "Self-Learning Kit on Breastfeeding for Health Professionals." She was also the Course Director of the "Train-the-Trainer Breastfeeding Course" organized by World Health Organization/UNICEF in 2014. Dr. Fung has been the author of a breastfeeding book as well as a column in Ming Pao Newspaper for more than 3 years. Currently she is an editorial board member of the Newsletter of UNICEF Baby-friendly Hospital Initiative Hong Kong Association. She is a regular guest speaker in the weekly radio program at MetroInfo FM99.7. Dr Fung has three children whom were all exclusively breastfed.  Dr Fung will deliver the talk in Cantonese while simultaneous interpretation in English will be provided. The talk includes a Q & A session and concludes with Dr. Fung's signing of her breastfeeding book published in 2014.
Hosted by Rui Cunha Foundation and Macau Breastfeeding and Nurturing Promotion Association and co-organized by the C&C Club.
Lecture details:
Date: October 24, 2017 (Tuesday)
Time: 7:30-9:30 pm
Venue: Rui Cunha Foundation Gallery – G / F, Av. da Praia Grande, Nº 749 -R/C, Macau
Online registration: http://bit.do/DrFungTalk20171024
Fees: Free
Registration deadline: October 23rd, 2017
#DrAmyFung #RuiCunhaFoundation   #FundaçãoRuiCunha   #MacauBreastfeeding&NurturingPromotionAssociation   #APACIM   #C&Cclub