ASM/Flying Islands Book Launch
27/5/2015, 18:30
Rui Cunha Foundation Gallery
This event is conducted in English
Cocktail
Free Admission
List of Book:
Kit Kelen – A Pocket Kit
Beatrice Machet – For Unity
Camellia Wei – Many Yesterdays More Than Seasons
Candy Ting Tang – Barefoot Running
Fei Chen – A River Sings Tales of the Village
Merima Dizdarevic – Self-Preservation Sans Aesthetic Principles
Andres Ajens – Bolivian Sea
Vaughan Rapatahana – Atonement
Huang Lihai – Feed Birds Rainbows
Tredinnick – Almost Everything I Know
Yao Feng –Great Wall Capriccio and Other Poems
Chan Lai Kuen – City of Dead Stars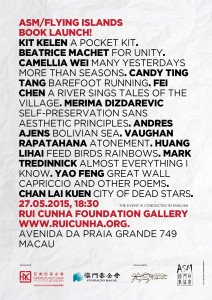 FRC holds ASM/Flying Islands Book Launch
Association of Stories in Macao (ASM) and Flying Islands launches twelve new books in their Pocket Poets Series for 2015. The books will be launched by the University of Macau's Professor George Watt, at the Rui Cunha Foundation, at 6.30pm on Wednesday 27th May. The event is conducted in English.
The series represents poets from around the world, and includes texts in French, Spanish, Swedish, Maori and Bosnian, as well as Chinese and English. Most of the poets and translators however are from Macao, and this launch features readings from first book of poetry by three new Macao voices – Fei Chen, Camellia Wei and Candy Ting Tang. Their books are in Chinese and English, with no translation involved because, in each case, both texts were written by the author.
We are also launching a new book by Macao's best-known poet, Yao Feng. Two Hong Kong authors are represented on the list – Chan Lai Kuen and Vaughan Rapatahana. A Chinese-English selection of Australian poet Mark Tredinnick's work challenges the reader's assumptions about the pocket book format. The work of a Swedish poet Merima Dizdarevic represents her experiences in Macao as a Linnaeus-Palme Exchange Student. Beatrice Machet's French and English volume For Unity and Andres Ajens' Spanish centered multilingual collection make the event truly cosmopolitan. Also being launched – and coinciding with his ongoing exhibition next stop is the stars – we have a new portable selection of poems by Macao poet, Kit Kelen.
All of the books are designed and printed in Macao. The series (along with ASM's other hundred and more titles) helps to establish Macao as a world centre for poetry translation. The launch event is sponsored by Rui Cunha Foundation and is a demonstration of their commitment to Macao culture and cross-arts activity.
Free admission. Cocktail served. Address: Av. Da Praia Grande No. 749, R/C, Macau.  Enquiry: (853) 2892 3288 or info@fundacao-rc.org.