Saturday Night jazz – 2023.10.28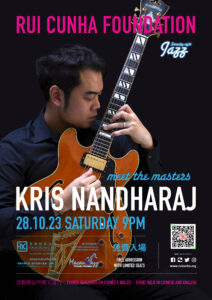 The Rui Cunha Foundation presents the popular "Saturday Night Jazz" concert on Saturday, October 28th, 2023, at 9:00pm, under the series "Meet the Masters" with top Thai guitarist Kris Nandharaj, composer and music professor at the Jazz Music Faculty of Silpakorn University in Bangkok, who will be in Macau to perform with the resident band of Macau Jazz Promotion Association (MJPA).
The "Meet the Masters" series have been promoted annually by MJPA to collaborate with professional musicians temporarily based or passing through the territory. It has been held since 2014 and is one of MJPA's long-term activities: inviting numerous jazz musicians to Macau aiming to rehearse with the members and together perform for local audiences.
Thai guitarist Kris Nandharaj is a professor at the Faculty of Jazz at Silpakorn University in Bangkok and an active musician in that capital. Specializing in modern jazz, he has a solid background in traditional jazz, having started studying guitar at the age of 15 under the influence of rock music. He graduated in Jazz Music from Bangkok's Silpakorn University in 2004 and began working as a teacher and playing in various bands across Thailand.
In 2006, Kris moved to New York, USA, to study Music and Performing Arts at New York Steinhardt University, where he had the opportunity to practice jazz guitar with many famous world-class artists. He earned a master's degree in Jazz Music and Performance in 2010, when he became a guitar instructor at New York University (NYU) and went on to play shows and festivals in New York, Boston and Washington D.C..
He returned to Thailand in 2012, where he continues to pursue a successful professional career, as a teacher and as an artist. In addition to having published an instrumental jazz album in 2020 – "Kris Nandharaj Quartet Plus One: West Side Story" –, he has played and recorded with several bands such as Mellow Motif (Thai jazz band), Bomi's Homies (Korean jazz band), The Begins Grand (support band on The Voice Thailand and The Voice Kids), Big to the Future (Dutch Swing Jazz Band), as well as occasional participation in Thai jazz, pop-funk, and ska-reggae bands.
The Macau Jazz Promotion Association (MJPA), co-organizer of Saturday Night Jazz with the Rui Cunha Foundation since 2014, is a non-profit local arts association, created in 2010. The aim of MJPA is to promote jazz music to Macau's audience and to provide opportunities for local musicians, thus bringing out the multicultural characteristic of the territory.
Admission is free.
Don't miss it!
For Macau, Further and Higher!