"One Flower . One World" Solo Exhibition by NaHeYa – 2023.08.22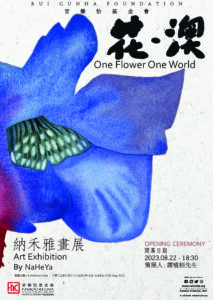 The Rui Cunha Foundation presents on Tuesday, August 22nd at 6:30pm, the Solo Exhibition "One Flower . One World" by NaHeYa (纳禾雅), an artist from Inner Mongolia with an academic background in Chinese Art, obtained in Beijing, and currently a PhD student at City University of Macau.
The display gathers a collection of 28 Chinese paintings, each representing a flower, all created from solid traditional pigments diluted in water on paper and Xuan rice paper, with techniques of great or minimum detail, transparency and color saturation.
As her curator Tam Chek Wun describes, «NaHeYa's rich academic background, work experience, and years of dedicated creative effort, have given her a keen eye and deep understanding of the beauty of color and form. Her flowers are works of emotion and dedication, infused with transcendent spirituality. With an education in Chinese Painting, she prefers to use a brush and highly saturated transparent watercolors, creating a magical collision of contour lines that intersect and merge into tasteful, luminous, and yet unpretentious petals. These elements combine to construct a contemporary flower style that is vibrant in color, lively in expression, and highly personal in artistic language».
NaHeYa was born in Tongliao City, Inner Mongolia, descendant from Daur people ethnic minority. Arts were always present in her family context and she eventually studied under Professor Li Kuizheng tutoring, a famous painter of flowers and birds. She later graduated from Minzu University of China in Beijing with a Master's degree in Traditional Chinese Painting. She is currently working at the Research Department of National Art Museum of China, Beijing, as well as pursuing her Ph.D. in Art Studies at City University of Macau, under the guidance of Professor Chen Lysheng.
The display will be held until August 26, 2023.
Admission is free.
Don't miss it!
For Macau, Further and Higher!