"Macau Asian Comics Exhibition" – 2023.08.08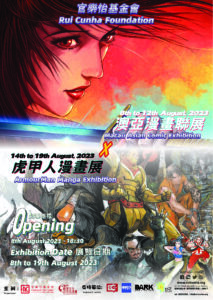 The Rui Cunha Foundation presents on Tuesday, August 8th at 6:30pm, the "Macao Asian Comics Exhibition + ArmourMan Manga Exhibition", two productions that will run over two weeks, co-organized by the Association of Promoting Macau Comics and Animation Cultural Exchange, from August 8 to 12 and from 14 to 19, respectively, at FRC Gallery.
Curated by Howard Chan (陳兆銘), President of APMCACE, these exhibitions will feature more than 60 pieces of art in all: around 30 in the first week, with 10 Asian comic artists – not only from Macao and Hong Kong, but also from Singapore, Korea and Japan – and another 30 comics by James Khoo, author of the famous "ArmourMan" series and a reference name in Hong Kong's art scene.
The first week will show the 2023 edition with the newest pieces of comics, manga and animation, created by the members of the Association, represented here by the artists Vincent Ho (湖水藍), Wing Mo (喵喵), Greymon Chan (陳俊龍), Leung Wai Ka (梁偉家), Z (小), Nasu (茄子 / ナス), Hiroshi Kanatani (金谷裕), ST (ST), Yeo Hui Xuan (楊惠瑄) and Sean Kim (김수용).
The second week these art pieces will be replaced by the recent work of Hong Kong comics master, James Khoo Fuk Lung (邱福龍), starring "ArmourMan" which became the blockbuster of weekly comics, once it was launched in the neighbour territory. The weekly magazines also achieved record sales in Macau, with most newsstands sold out within 2 days. James Khoo is an experienced comics book author. His first masterpiece, "Iron Marshal", sold 60,000 books when released. Later came box office hits like "Eastern Invincible", "DragonMan" and many others.
"ArmourMan" is his latest work and the best-selling weekly comics magazine in Hong Kong. For this reason, APMCACE decided to invite James Khoo to present it in Macau, with the aim of bringing the superhero for locals and visitors to check it out at FRC Gallery.
The Association for Promoting Macau Comics and Animation Cultural Exchange was created in 2014 to support the professional development of the industry, technical exchanges and cooperation between local and foreign illustrators, with a view to warranting more high-quality and large-scale projects, as well as publications, lectures and other activities that benefit the Macao community.
Admission is free.
Don't miss it!
For Macau, Further and Higher!
FRC | Macau Asian comic exhibition 2023 opens at the Rui Cunha Foundation | TDM – English News on 08.08.2023