Changes in Communications: From 5G through Digital Platforms to AI – 2023.04.19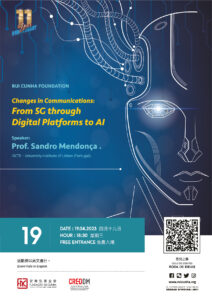 The Rui Cunha Foundation will hold on the 19th of April, at 6.30 pm a talk on "Changes in Communications: From 5G through Digital Platforms to AI", with Prof. Sandro Mendonça from ISCTE – University Institute of Lisbon (Portugal). Event held in English.
About the session:
Few sectors have been so disrupted as telecommunications, as it transitioned from analogue to electronics while converging with information technologies. Today, the wireless set of standards known as 5G symbolises both the promise (by being fast) and the peril (flat revenues) of emergent and critical technologies. At the same time, digital platforms become the new ecosystem template for doing business but keep exerting heavy pressure on existing regulatory structures. What is more, computational rationality is challenging ethical norms from science and the arts to intellectual property and the enforcement of law. Can we see through the fog of change? In this New Era, our argument is that the principles and practice of good governance must be articulated in a dynamic and anticipatory way.
Speaker:
Sandro Mendonça is Professor at the Department of Economics, ISCTE – Lisbon University Institute. He is Invited Professor at ISEG – University of Lisbon. He is Visiting Professor at the Dept. of Economics of the University of Insubria, Italy. He has been research faculty of SPRU, University of Sussex, and he was a visiting scholar of King's College, London. Since 2012 he teaches and supervises at the doctoral programs of the Southern Medical University (Guangzhou) and the University of Electronic Science and Technology of China (Chengdu).
He has experience as regulator in the electronic and digital communications sector, having served as commissioner for the Portuguese national authority. He has been advisor to the higher studies board of the Brazilian federal telecoms agency. He serves as expert of the monitoring unit of the Portuguese official national authority for cybersecurity. He was Scientific Manager at CYTED (the official Ibero-American program for science and technology, www.cyted.org) from 2014 to 2018, and remained an advisor.
His research and consultancy work mostly focus on innovation and industrial policy. He is also active in the fields of strategic foresight and conflict research. His work is cited in official reports by international organisations, including the European Commission, the OCDE, several UN agencies and programmes (such as WIPO, UNIDO, IPCC), etc.
He has maintained a civic activity for a long time, most visibly in the media. In past years, he held opinion columns in magazines like Revista Macau (the Macau-based magazine on Oriental and Portuguese-speaking affairs) and UP (the on-board magazine of TAP, the Portuguese heritage carrier). He held columns in several newspapers: Expresso (Portugal's leading weekly new outlet), Público (Portugal's reference daily newspaper), Diário de Notícias (the oldest mainstream daily paper) and Diário Económico (a leading Portuguese business newspaper, which survives today as Jornal Económico). His comments have featured in the Thai press, in the Finnish TV, in the Brazilian radio, in the Spanish official new agency, etc., etc..
This talk will be delivered in English and is part of the 11th Anniversary Program of the Rui Cunha Foundation.
Entry is free.
Don't miss it! For Macau, Further and Higher!