History and Heritage – Public Lecture Series – 2023.04.20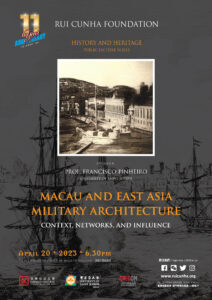 The Rui Cunha Foundation will hold on the 20th of April, at 6.30 pm a talk on Macau Influence in East Asia Military context, Architecture, tactics and technology, inserted in History and Heritage – Public Lecture Series, a new partnership between Rui Cunha Foundation and USJ – University of Saint Joseph, Department of History and Heritage.
About the session:
During the 16th century Iberian people, Portuguese, and Spaniards, arrived in the Southeast Asia, bringing military technology, like cannons and firearms. Directly or indirectly, they influenced the warfare and political situation in China, Japan, and Korea. With Macao as a base, Portuguese, but particularly the educated Jesuits, like for example Adam Schall von Bell was pressed by Ming authorities to cast hundred cannons. Luis Frois, a Portuguese Jesuit, met members of the military elite in Japan that was adopting western technological and scientific concepts. The war Lord Oda Nobunaga, a Daimyo, Feudal Lord, from a small province in central Japan, rapidly achieves military supremacy by successfully using Western technology and tactics in the art of war in his struggle pursuit of unification of Japan as commented by contemporary Jesuits. Nobunaga also revolutionized the construction of castles with the construction of Azuchi castle-palace, adopting many elements from European castles, with innovations that revoked the old Japanese models. Portuguese forces from Macao also helped the last remans of the Ming to fight the invading Qing forces. The survival of Macau to a superior invading Dutch force in 1622 was possible due to an update military technology, architecture, and tactics. Macau also play an important role in the struggle of its survival when threatened by thousands of pirates in the region when in 1809 organized a fleet of 5 merchant ships adapted to military use and put an end the this treat to the city and the region. The consolidation of the Tokugawa Shogunate (1615) in Japan and the Qing Dynasty (1644) in China initiated a long period of peace. Military architecture evolution practically stagnated. Nowadays, the surviving military structures are adapted or restored as important educational assets for cultural tourism, particularly in Japan. Several 17th century Japanese castles were rebuilt in the 20th century and in China many city walls were rebuilt like the one in Datong city or parts of the Great Wall.
Speaker:
Francisco Vizeu Pinheiro, PhD – Architect, Associate Professor University of St. Joseph, Macau S.A.R.
Francisco Vizeu Pinheiro is licentiate in Architecture by the University of Lisbon, Portugal. He continued his post graduate studies in Macao-China and obtained a PhD at Tokyo Institute of Technology. He did studies and teach in Cultural Tourism at the Macao's Institute of European Studies and the IFTM. He also worked for many years as an architect in different government institutions. Presently he is Associate Professor of the Department of Architecture and Design of the Faculty of Arts and Humanities at University of St. Joseph in Macau where he teaches course related with Architecture and Sustainability and Heritage.
He is a Visiting Professor in Jiangnam University, in Mainland China.
His studies and projects are related with urban rehabilitation of Macao's historical centers in Macao Peninsula and islands.
He researches on History and Heritage of Macau and its regional influence.
His research is diversified, from: social impact of public housing in an ageing society; synergies between green urbanism and heritage sites revitalization; healthy city and tourism-oriented development; Light Rail Train infrastructure planning and impact in the city; scale and sustainability.
This talk will be delivered in English and is part of the 11th Anniversary Program of the Rui Cunha Foundation.
Entry is free.
Don't miss it! For Macau, Further and Higher!