Bel Canto Saturdays & ESLCLGG Choir – 2023.04.15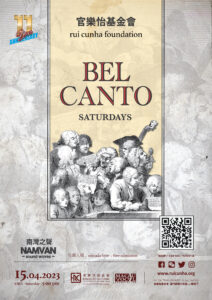 The Rui Cunha Foundation presents on Saturday, April 15 at 5:00 pm, a concert of "Bel Canto Saturdays & ESLCLGG Choir", integrated in the series of Nam Van Sound Waves musical concerts, co-organized by the Macau Vocal Association.
The ESLCLGG Choir is composed of high-school students from Escola Secundária Luso-Chinesa de Luís Gonzaga Gomes, who are very enthusiastic with the opportunity to participate in this special performance, after a very satisfactory result in their last year's school music competition.
The event is part of the 11th Anniversary Program of Rui Cunha Foundation, celebrated during the month of April with diverse activities.
The students have already expressed that they feel «very honored to be invited to participate in this performance, with a one-hour concert in which we have prepared many Portuguese songs, so that everyone can experience the cultural characteristics of Portugal. In addition, we will also present songs in Chinese, English and Filipino, as well as piano solo performances. This is the first off-campus performance of our music group and we hope everyone can come and support us!"
The Macau Vocal Association has always aimed to promoting the development of vocal music art in Macau, and achieving the mission of spreading it towards the young people and the local public. The series of recitals and concerts, held in partnership with educational institutions in the territory, intend to provide through music a balanced development of moral, intellectual, aesthetic, physical, and social well-being, for people of all ages in their free time.
Admission is free.
Don't miss it!
For Macau, Further and Higher!