What once was, will be no more – 2022.11.15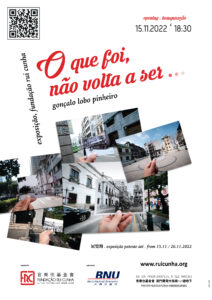 《The Rui Cunha Foundation presents on Tuesday, November 15th at 6:30pm, the Photo Exhibition "What once was, will be no more", a project by award-winning journalist and photographer Gonçalo Lobo Pinheiro, that merges old and current images from the city of Macau and Islands, showcased at the FRC Gallery and in an author's edition Book.
There are 20 photographs, about one meter by one meter in size, that follow the evolution of the territory over decades, signed, numbered, and limited for collection purposes, up to a maximum of 3 reproductions each. The selection was made by the author, from a set of 40 images completing the book, which will be available during the inauguration, prefaced by Portuguese jurist and politician who lived in Macau, Maria de Belém Roseira.
«This book and the exhibition represent an encounter between the past and the present. The idea, which is not a first in the world, turns out to be in Macau. And the enthusiasm started there. For a little over a year, I collected old images of the territory, captured between the 1930s and 1990s, in black and white, with different formats. I have acquired them at auctions, on the Internet, from individuals, in stores and even in Portugal», explains Gonçalo Lobo Pinheiro in his proposal.
«I was ambitious in the first months of the project's execution. I conceived a final work that would include at least 100 photographs (…). But I couldn't, I assume. Or better, I managed to have about 100 images in my possession, but from those I only chose to edit and publish 40, exposing 20». And the author explains that although some scenarios are still recognizable, others simply no longer exist. «Everything has changed. Therefore, in most cases, what once was, will be no more…».
Gonçalo Lobo Pinheiro is a Portuguese photographer and journalist, born on 4 April 1979 and based in Macau for over 12 years. He started by studying Geological Engineering, but graduated in Communication Sciences, variant Journalism, at Universidade Autónoma de Lisboa. He worked for several Portuguese and foreign publications as a contributor, including A Bola, o I, Público, Correio da Manhã, O Comércio do Porto, Expresso, Washington Post, BBC, The Guardian, among others. In Macau he joined the newspaper Hoje Macau, where he worked as a copywriter, photojournalist, and editor between 2010 and 2014. Winner of several awards throughout his career, he has also published several photography books. He is currently part of the editorial staff of the newspaper Ponto Final and has a collaboration with the Portuguese news agency LUSA.
The artworks will be on display at FRC Gallery until November 26, 2022.
Don't miss it!
For Macau, Further and Higher!