The Chorus of Détour – 2022.11.01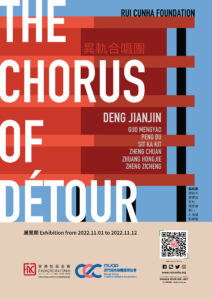 The Rui Cunha Foundation presents from November 1st to 12th the Collective Exhibition of Contemporary Painting "The Chorus of Détour", to showcase the latest innovative work of seven artists from Guangzhou. Curated by Professor Deng Jianjin, the event is co-organized by the Macau Urban Creative Industry Association (MUCIA).
The 21 artworks selected for this show reveal the creativity of these young artists, coming from different areas, but with a shared learning experience in the Oil Painting Department of the Guangzhou Academy of Fine Arts. They are on the threshold of becoming «the new generation that represents contemporary art in Guangdong», according to Deng Jianjin, Professor and former Director of the same department.
«The participating artists, whether teachers or students, they all present unique personal trajectories in their artistic creations, forming distinctive visual characteristics. This kind of development outside the norm seems to deconstruct the traditional relationship between teachers and successors, reflecting the most important individuality and singularity of artistic creation, while composing an effect similar to the harmonizing voices in a choir», reveals the project's manifest.
In addition to Deng Jianjin, this ensemble is joined by Zhuang Hongjie, Professor at the Guangzhou College of Technology and Business; Zheng Chuan, Guest Professor at Guangzhou Academy of Fine Arts; Zheng Zicheng, Professor at He Xiangning College of Art and Design at Zhongkai University of Agriculture and Engineering; and independent artists Sit Ka Kit; Pen Du and Guo Mengyao.
The paintings will be on display at FRC Gallery until November 12, 2022.
Don't miss it!
For Macau, Further and Higher!