Saturday Night Jazz . "Halloween Special Dress Up Party" – 2022.10.29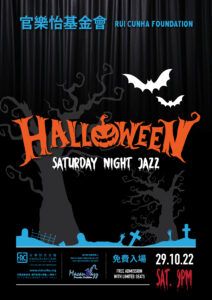 The Rui Cunha Foundation presents the popular "Saturday Night Jazz" concert on October 29th at 9:00 pm, with the long awaited "Halloween Special" that will bring young people back to the Gallery's stage. To greatly celebrate spooky All Hallows Eve, the show will feature the Kids Group of the Macau Youth Jazz Orchestra and the teenage quintet girls band Lazy Jones, both promising a night of haunting and exhilarating music.
The Macau Jazz Promotion Association (MJPA), co-organizer of the event since 2014, selected for this concert two bands formed by young jazz lovers who are learning to explore different styles within the musical genre, as part of multiple MJPA projects aimed at local youth and regional exchange of talents.
The Kids Group of the Macau Youth Jazz Orchestra is the youngest section of MJPA apprentices in the Jazz Big Band format, whose primary school students will «show all their energy and a lot of swing», according to Mars Lei, the Association's President. The five teenagers to follow are the female quintet Lazy Jones, taught by drummer Carmen Ip. They performed in the last edition of Saturday Night Jazz and will now return with new songs and some classics. With Diana Piscarreta (vocals), Gale Tsui (piano), Emily Hong (drums), and the sisters Nana Chan (guitar) and Twinkle Chan (bass), a fun night is guaranteed but will only be complete with your Halloween fantasy costume!
Admission is free, subject to health recommendations implemented by local authorities.
Don't miss it!
For Macau, Further and Higher!