"Visions" . Artistic Exploration by Lampo Leong – 2022.01.12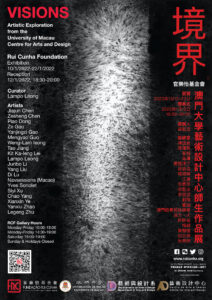 The Rui Cunha Foundation presents on Wednesday, January 12th at 6:30pm, the inauguration of "Visions" Artistic Exploration, a collective exhibition curated by Lampo Leong that will showcase the work of 20 local artists who are students and professors from the Centre for Arts and Design of University of Macau.
Comprised of about 30 pieces, this exhibition demonstrates the interdisciplinary and multimedia nature of the artistic practices, featuring an eclectic mix of creative works by art professors, Masters and Doctoral students from UM's Centre for Arts and Design and the Department of Communication. It includes contemporary ink painting, oil painting, watercolor, illustration, photography, ceramic, visual communication design, packaging design, autostereoscopic animation, digital art, video animation, and interactive installation.
«For centuries, Macau has been a cultural, technological and commercial meeting point for China and the West. Likewise, the postgraduate art and design education at the University of Macau aims to synthesize Chinese and Western artistic concepts, to incorporate arts and technologies, and strive to transcend the conventional boundaries between art and design. Creative explorations outline China's rich cultural traditions and speak of a global language of the contemporary era», explains the artistic manifesto for this exhibition.
Lampo Leong is a distinguished Doctoral Professor (PhD) of Art, Theory and Practice, academic advisor and current Director of the Centre for Arts and Design of the University of Macau (UM). With an extensive academic career – from the Beijing Central Academy of Fine Arts (China), the California College of Arts (USA), the University of Berkeley in California (USA) and the Guangzhou Academy of Fine Arts (China) –, he is responsible for teaching drawing, oil and acrylic painting, watercolor, Chinese ink, Chinese calligraphy, graphic design, creative media design, portfolios, publications, among other subjects.
The artwork will be displayed at FRC Gallery until the 22nd of January 2022.
Admission is free, but subject to compliance with the health measures in place.
Don't miss it!
For Macau, Further and Higher!