Oil on Velvet Paintings by Chio Tin Song – 2020.10.14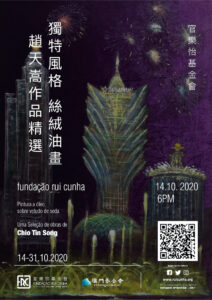 The Rui Cunha Foundation presents next Wednesday, October 14th at 6:30 pm, the exhibition "Selection of Works by Chio Tin Song – Oil on Silk Velvet Paintings", which will show a set of 31 new works of art by the renowned local artist.
The pieces cover series of local landscapes, still-life images, people, fish, insects and flower birds, executed with this peculiar and unique technique of Chio Tin Song. His most recent compositions, painted on silk velvet material, will now be displayed for the first time.
Chio Tin Song is a painter of many talents on the artistic panorama of Macau, a reference not only in oil painting and Chinese ink painting, but also in watercolor and calligraphy. His works have been exhibited numerous times, both inside and outside the territory, being part of several local museums, galleries and private collections.
He was born in 1939 at Xinhui, Guangdong Province, China. He graduated in Theater Arts from the Shanghai Theater Academy in 1964 and immigrated to Macau in 1979. Chio Tin Song is currently Executive Vice President of the Macau International Artists Association, Member of the Board of the Guangdong, HongKong and Macau Collectors Association, Honorary President of the Jiangmen Antiques Association and Consultant at the Sheng Rong Museum. His works were exhibited over the years in many countries and are also part of permanent collections from museums and galleries around the world, as well as private collectors in China, Asia, the United States of America, Europe and South America.
The pieces now on display result from the integration of Chinese ink painting with Western painting. The exhibition can be seen until October 31st at the Rui Cunha Foundation Gallery.
Don't miss it!
For Macau, Further and Higher!