International Insurance Seminar
Saturday 26/04, 10:00 am
Rui Cunha Foundation
Free admission
Regulation and Supervision of Insurance Business – Morning Panel
begins 10:00 am
speakers :
– Professor John Calvão da Silva , Professor of the Faculty of Law of the University of Coimbra
– Professor Bruno Mirage , PhD Federal University of Rio Grande do Sul, Brazil
– António Félix Pontes , Director of the Monetary Authority of Macao
– Peter Cashin, Kennedys Law firm
Moderator:
Dr. Jorge Neto Valente, President of the Lawyers Association of Macau, Curator of Rui Cunha Foundation
debate
Afternoon Panel – The Activity Insurance and Pension Funds in Macau
Home 15:00
– Dr. Steven Chik – Pension Funds , Chief Executive Officer – Macau Insurance
– Dr. Ivan Cheung – Bancassurance , Insurance General Manager Loyalty Macau
– By Dr. Kei Ieong , Filipa – Insurance Mediation , Deputy Director of the Legal Office Macau Monetary Authority
Calvão Professor João da Silva , Professor of the Faculty of Law of the University of Coimbra
– Professor Bruno Mirage , PhD Federal University of Rio Grande do Sul, Brazil
debate
This Seminar will be simultaneously translated to Chinese / Portuguese / English .
Organization : CRED -DM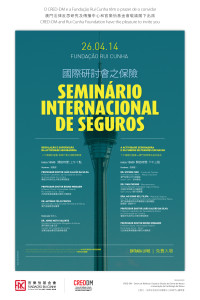 Under the Second Anniversary of Rui Cunha Foundation , CRED – MD – Center for Reflection , Study and Dissemination of Macau Law , is to organize a subordinate Theme International Insurance Seminar .
Given the legislative changes planned for the year 2014 for the legal framework of the insurance business , with a view to their harmonization with the existing normative imperative in Macao , is the desideratum Government , raising the conditions of access to the activity , optimizing schemes on licensing , supervision and discipline of the entire insurance industry .
Furthermore intention is to , improve the legal system to pursue the activity of insurance mediation , simplifying administrative procedures for application for licenses , optimizing the system for supervising the activity.
Alike, and yet, within the scope of insurance business, is becoming increasingly important phenomenon of Bancassurance , and pension funds all over the world and a fortiori , also in Macau .
All these themes come together matters more than enough to open the discussion to the entire community , specialized and general public by organizing a seminar on the 26th April at the Foundation Headquarters Rui Cunha , Macau, China.
The Seminar will take place all day Saturday , with a panel in the morning , totally dedicated to the Supervision and Regulation of the Activity , and a panel in the afternoon dedicated to Activity Insurer and Pension Funds in Macau .
Findas interventions have a short discussion with this public – will open .
The work will be simultaneously translated to Chinese , Portuguese and English for each of the speakers may speak in their language of origin .