"Transdisciplinary Dialogues" USJ/FRC Conference – 2023.09.28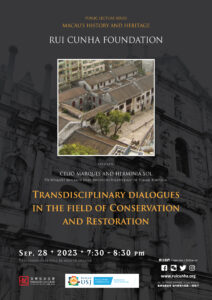 The Rui Cunha Foundation presents today, Thursday, September 28th at 7:30pm, a conference on "Transdisciplinary Dialogues and Transformative Prospects in the Realm of Conservation and Restoration", inserted in the History and Heritage Public Lectures' series, an active partnership between FRC and USJ – University of Saint Joseph, Department of History and Heritage, Macau.
With the increase in transdisciplinary network scenarios, challenges as well as collaboration opportunities emerge. «The field of conservation and restoration is no exception as the entrance in a new millennium brought new challenges and, along with them, the need for new solutions for new predicaments. After all, this dynamic is at the root of scientific progress. The convergence of new outlooks which are subsequently verbalized in the shape of narratives, are vital to promote the understanding and the dissemination of findings», the USJ informs.
With that in mind, the Center for Technology, Restoration and Arts Enhancement (TECHN&ART) of the Polytechnical Institute of Tomar, taking advantage of its transdisciplinary identity, is currently developing several Conservation and Restoration projects that benefit from a plurality of fields of expertise. Considering this, a brief account of the research work being done at TECHN&ART will be given while displaying some of its best examples and exploring new concepts such as Creative Conservation.
Guest speakers at this lecture will be Professors Célio Marques and Hermínia Sol, from the TECHN&ART Research Unit, Instituto Politécnico de Tomar, in Portugal.
Célio Gonçalo Marques is a Professor at the Information and Communication Technologies (ICT) Department of the Polytechnic University of Tomar (Portugal). He holds a PhD in Educational Sciences with specialization in Educational Technology, a MSc in Educational Multimedia Communication, a post-graduation in e-Learning Techniques and Contexts, and a degree in Computer Science and Management. He is the Director of the Laboratory of Pedagogical Innovation and Distance Learning and the President of the Technical and Scientific Council of IPT's School of Management. He is also Integrated Researcher and Director of the TECHN&ART Research Unit, Research Collaborator at the Laboratory of Educational Technology (University of Coimbra), and at the Center for Administration and Public Policy (University of Lisbon). His research interests include educational technology, digital innovation, technology applied to heritage, and public policies. He is the author of over two hundred publications and is a member of the editorial board of several journals, as well as member of organizing committees of various international conferences. He is also expert at the Higher Education Assessment and Accreditation Agency (A3ES) and member of the Association for the Promotion and Development of the Information Society(APDSI), Europeana Network Association, and coordinating committee of NAUplatform.
Hermínia Sol is an Assistant Professor at the Polytechnic Institute of Tomar – IPT (Portugal), where she teaches English and Screenwriting. She holds a degree in English and Portuguese from the University of Coimbra (Portugal), an MA in Women's Studies from the University of Limerick (Ireland) and a PhD in American Literature from the University of Coimbra (Portugal). She is deputy director and researcher at the Centre for Technology, Restoration and Arts Enhancement(TECHN&ART) of the IPT and is also a researcher at the Centre for English Studies of the University of Lisbon (ULICES). Hermínia Sol has done research in the fields of travel literature, short fiction, cinema and literature, women's studies and American Studies. The study of narratives, both written and cinematic, has been central to her academic work. In 2010 she produced and co-directed the photodocumentary "The pleasant feeling of being in a more innocent age: Paul Bowles' impressions of Portugal" and published her first book in 2019 "Paul Bowles in Portugal" (Almedina). Since 2020 she has been working in the field of memory studies and heritage narratives. She is currently leading the project PAPER TRAILS: Post-industrial Histories, Technical Memories and Artistic Practices.
(http://www.papertrails.techneart.ipt.pt/en/paper_trails/
The lecture will be held in English for 1 hour duration .
Admission is free.
Don't miss it!
For Macau, Further and Higher!