周末爵士夜 . 「遇見大師」– 2022.01.29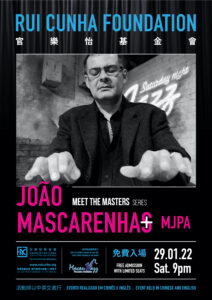 The Rui Cunha Foundation presents the popular "Saturday Night Jazz" concert on Saturday, January 29th, 2022, at 9:00pm, under the series "Meet the Masters", with Professor João Mascarenhas, from Brazil, top musician, pianist and composer, who has performed regularly in Macao and Hong Kong in recent years, and will be playing along with the resident band from the Macao Jazz Promotion Association (MJPA).
The series "Meet the Masters", promoted by the MJPA, present and collaborate with professional musicians residing or passing through the territory. João Mascarenhas is a performer, composer, arranger, producer, teacher and researcher of jazz, Brazilian pop and Latin music, and is also the founder of MOJAZZ, frequently invited to various music festivals and workshops abroad. He holds a BA in Jazz Composition from Berklee College of Music, Boston (2001), a Master's in Composition from the University of Missouri-Columbia (2006), and a PhD in Music Composition from the University of Hong Kong, under the supervision of Hing Yang. Chang (2012).
As a great jazz specialist, João Mascarenhas will be the protagonist of this first concert of 2022, on the eve of the Lunar New Year of the Tiger, presenting with the members of the MJPA a repertoire with diverse themes, modern and classic.
Admission is free, but subject to the health recommendations implemented by local authorities.
Don't miss it!
For Macau, Further and Higher!