Tyrannosaur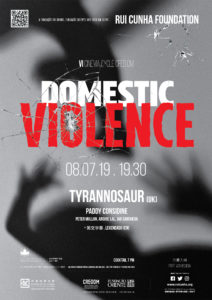 VI Ciclo de Cinema CRED-DM – Domestic Violence
2019.07.08  .  Na Fundação Rui Cunha . 19:30 . Entrada Livre
TYRANNOSAUR (2011)
Synopsis: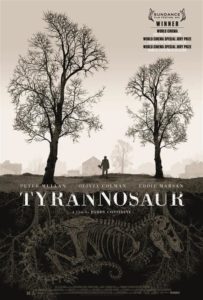 Joseph (Peter Mullan) is an unemployed widower with a drinking problem, a man crippled by his own volatile temperament and furious anger.
Hannah (Olivia Colman) is a Christian worker at a charity shop, a respectable woman who seems wholesome and happy.
When circumstance brings the pair together, Hannah appears as Joseph's guardian angel, tempering his fury and offering him warmth, kindness and acceptance. As their relationship develops, Hannah's own secrets are revealed – her husband (Eddie Marsan) is violent and abusive – and Joseph emerges as her unlikely savior.
With striking performances and a deeply felt story, actor-turned-writer/director Paddy Considine's film is a stunning debut about the emergence of grace and redemption from the least likely of places.