Immaterial-Environmental And Living Aesthetics – 2023.02.18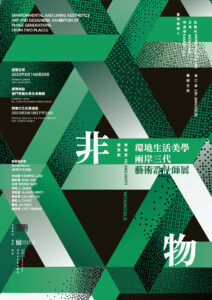 "Gazing at the Immaterial" is a reflection on human relationships in the digital age. The three generations of art designers from both sides of the Taiwan Strait have been making not only "non-materials" but also, and more importantly, a relationship between human beings. What is more important is the making of a relationship between people, to reflect on the I, to change the boundaries of the other and to heal the broken self. In the habit of the 'thing' being tied to its habitat, we reinforce patterns of behavior through habit, multidimensional patterns that both protect us and control us, ultimately distancing us from the living archetype of the body and the natural world. The three generations of art designers are a constant rewriting of grammatical non-finite verbs, oriented towards the increasing unknown, whose tense and discourse bring about a 'language of objects' rather than words, extending the life cycle of 'objects' – for the stages of growth of the life cycle. -The value-adding of things, the efficiency of development paths, and the reduction of the movement of things – 'reduction and efficiency' is not only a circular design of the material world, but also a 'future element' of contemporary artistic knowledge production. "It is also a 'future element' of contemporary artistic knowledge production.
Three generations of art designers have continued to enter the interior of 'things', or the inaccessible interior, and reuse obsolete or wasted products to give them a second life – 'things and non-things' are born again. The 'thing' and the 'non-thing' are born again. "The 'not-thing' shapes us, identifies us, and the 'thing' and the senses are constantly exchanging identities in translation. Their sustainable design is an archaeology of knowledge, from disguise to coitus. Disguise blurs the perception of paths, while coitus defines space. They are a convener of times, places, people and events, each of which is examined in his body and medium, the 'I' in the concentrated expression and transformation of his past practical experience, the ambiguity and variability that seem to spread to the unknown pathways of the body's extremities, extending the body – repairable, repairable, repairable and sustainable. -New objects that are repairable, restorable, reusable, communicable and recyclable are constantly extending our bodies, not just the 'thing' itself, in the rules of artistic practice. Their collective presence is not designed for the here and now, but for the future, to influence more people to be aware of and participate in the environment, to introduce behavior in the name of 'collaboration', to 're-occupy the earth'.
參展藝術家Exhibitions:
(排名不分先後)
林金華 KAMWA LAM
蕭啟東 CALVIN SIO
謝莉娜 NINA XIE
李超 LI CHAO
王浩 WONG HAO
賈浩 JIA HAO
李禎 LI ZHEN
姚依宏 YAO YIHONG
黃敏意 HUANG MINYI
藝術策展人:林金華KAMWA LAM、王浩WONG HAO、伍嘉欣MINNIAN,NG KA IAN
學術策劃人:林江泉 LAM KONGCHUEN
總策劃:黃敏意HUANG MINYI
開幕式及拍賣講座定於2023年2月18日下午3:00
Opening Ceremony and Auction Seminar: Feb 18.2023 3:00pm
展覽日期:2023年2月14日至25日
Exhibition period: Feb 14-25.2023
展覽地點:澳門官樂怡基金會畫廊
Exhibition venue: Rui Cunha Foundation Gallery Macau