"Inspiration – Old Macau Landscapes" – 2022.10.12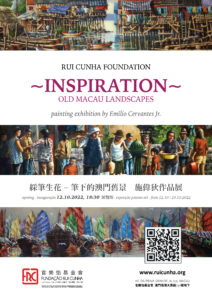 The Rui Cunha Foundation presents on Wednesday, October 12th at 6:30pm, the Painting Exhibition "Inspiration – Old Macau Landscapes", by the late Mexican born artist based in Macau, Emílio Cervantes Júnior, and curated by his daughter, Joana Bañares Cervantes Nogueira, which shows sceneries of Macau and the Islands, streets, buildings, boats, and people, painted over his last 17 years of life.
The exhibition displays 33 paintings in oil, watercolor, gouache, and Chinese ink wash, reflecting the ancient city, the green landscape, the population, the western and eastern architecture, mostly from Macau, but also from mainland China. According to his daughter, «Emílio Cervantes Júnior was born in Mexico on July 9, 1931. At the age of 5 he came to Macau with his parents and never returned to his homeland. He started painting as a teenager, in Macau, and never left the brush until his last months of life, in 2017».
«To improve his painting skills, he would read a lot of books, walk through the streets and alleys of Macau, Taipa and Coloane, and take pictures of landscapes, old houses, fisherman boats, etc. It was from photographs that he depicted his oil painting themes and, in the 1990s, he also began to experiment with watercolors», she explains.
In addition to painting, which he has exhibited in local solo and joint exhibitions, he was also the author of posters for institutional campaigns of the Health Service Bureau and the Macau Grand Prix, and designed stamps for the Macau Post.
The artist had a military career, stationed at the Macau General Headquarters until his retirement. But he was a man of varied interests, devoted equally to local sports and music. He was a part of Dr. Pedro José Lobo's Tuna Negro-Rubro orchestra, where he played clarinet, saxophone, banjo, viola, etc.
The paintings will be on display at FRC Gallery until October 29, 2022.
Don't miss it!
For Macau, Further and Higher!