秘魯電影放映 – 2021.11.16
2021 年拉丁美洲文化節
秘魯電影放映
活動將以英語舉行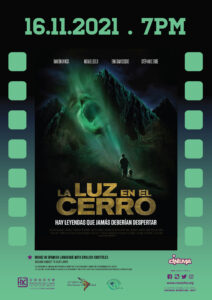 Movie from Peru:
"The Light on the Hill"
(La Luz en el Cerro), 2016
Directed by Ricardo Velarde
Language: Spanish
Subtitles: English
Duration: 85 minutes
Venue: FRC Gallery
2021 Latin American Cultural Festival
The film tells a mysterious story set in a small town in the Peruvian Andes, when the strange death of a shepherd awakens the fear of the population towards the unknown. Two young forensics and a rebel police are in charge of the investigation, a process that will reveal a shocking legend hidden for centuries.
Free tasting of Coffee from Peru before the screening (6:30-7:00pm).
The screening of this film was previously submitted to the Assessment Committee of Performing Arts (CCE) of the Cultural Affairs Bureau of Macau S.A.R. Government, for attribution of age classification on exhibitions held in public places.
Classification D: Session restricted for audiences under 18 years old.