Game On: The Gaming Law and the Future of the Industry – 2021.10.21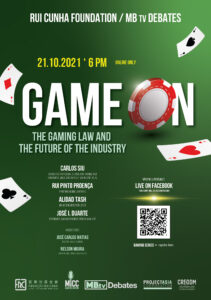 The Rui Cunha Foundation presents on Thursday, October 21st at 6:00pm, the webinar conference "Game On: The Gaming Law and the Future of the Industry", a new session from the FRC/MBtv Debates co-organized with the Macau Business magazine.
The event will be exclusively online, broadcasted on the FRC Facebook page or via Zoom Webinar registration link: https://zoom.us/webinar/register/WN_B1O_SkuPTPGZPMOJzgU08A. If you wish to participate on the Q&A, please make sure you register in advance to attend the debate via Zoom.
The revision of Macau's gaming law is under consultation, paving the way for adjustments to the city's core industry. Experts with diverse backgrounds will share their views on the challenges presented to the sector and the economy as a whole, as diversification and regional integration are set to play a key role.
Under the Gaming Series, this debate brings together a panel of professionals to discuss the way forward, with guest speakers Carlos Siu, Associate Professor, Centre for Gaming and Tourism Studies of Macau Polytechnic Institute; Rui Pinto Proença, Partner, MdME Lawyers; Alidad Tash, Managing Director, 2NT8; and José Isaac Duarte, Economist, Macau Business Senior Analyst.
The debate will be moderated by José Carlos Matias, Director of Macau Business, and Nelson Moura, Editor-in-Chief of Macau News Agency. All speeches shall be delivered in English.
Don't miss it!
For Macau, Further and Higher!