Piano Concerts on Saturday Afternoon I – 2020.07.18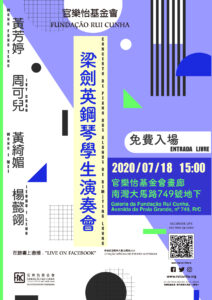 The Rui Cunha Foundation presents two "Piano Concerts with the Students of Kim-Ying Luong", which will take place on the following Saturdays, 18th and 25th of July, by 3 pm at the Gallery space.
On the first Saturday's, July 18, Professor Ms. Kim-Ying Luong has selected a program with classical pieces by Scarlatti, Beethoven, Prokofiev, Chopin, Debussy, Brahms and Mendelssohn. The concert will be played by the young award-winning students: Wong Fong Teng, Ivy Chao, Wong I Mei and Elaine Ieong I Leng.
On the following Saturday, July 25, the piano recital will be under the mastery of the soloist Kiana Yin Kam Wai, who will deliver other works by the composers Bach, Beethoven, Shostakovich, Scarlatti, Debussy and Chopin.
Kiana Yin is 16 years old and started learning piano at 6 years old. By the age of 14, she started studying with the renowned piano Professor Ms. Kim-Ying Luong. With several awards at important international youth competitions, Kiana also studied at the Moscow Music Conservatory in Russia and at the Mozart University of Music in Salzburg, Austria, under the guidance of Professor Alexander Fomenko and Professor Aquiles Delle Vigne.
Entry is free. The maximum capacity for each event is 50 people.
Don't miss!
For Macau, Further and Higher!