Postcards in the Digital Age – 2020.07.08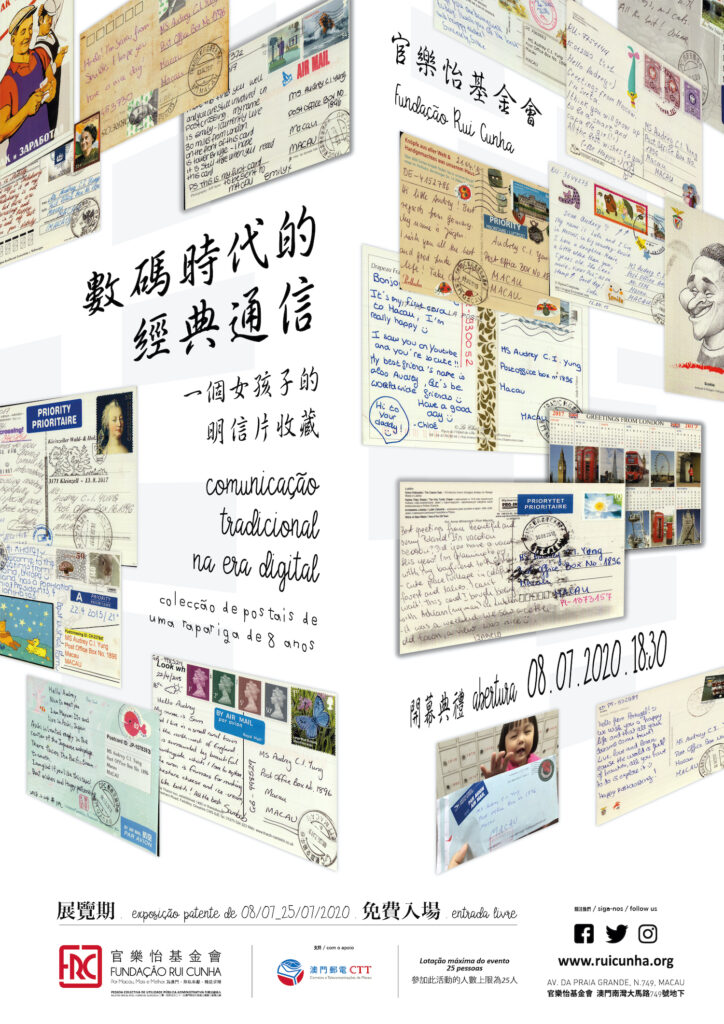 Photo Gallery
TDM – English News – 09.07.2020 (13'58" – Teaser;  36'34"-38'29" – News Coverage)
Os Postais de Audrey Yun – TDM-Rádio Macau
Collection of Postcards from an 8-Year-Old Girl
The exhibition "Traditional Communication in the Digital Age – Collection of Postcards from an 8-Year-Old Girl", organized by the Rui Cunha Foundation, is a journey through the images of illustrated postcards, from different continents and gathered over several years, that can be visited at the Gallery from July 8, 2020, Wednesday at 6:30 pm.
The collection belongs to Audrey Yung, an eight-year-old girl from Macao. The project has initiated with her parents at the date of her birth, when they enrolled on a digital postcard exchange program, entitled "POSTCROSSING". Since then, more than 2,500 postcards arrived at her door, coming from the four corners of the world, some from as far away as South Africa, Chile, Malta or Nigeria. Only part of the collection will be on display at the event.
POSTCROSSING is a project by the Portuguese Paulo Magalhães, who on July 14, 2005, created a website to meet other lovers of illustrated postcards and organize an international exchange system. The initiative quickly gained momentum and crossed borders, with more than a third of the practitioners concentrated today in Germany, Russia and the United States of America. On January 2019, POSTCROSSING had more than 750 thousand supporters in 206 countries, who have received in the mailbox more than 50 million postcards that have crossed about 250 billion kilometers.
This exhibition aims to focus on the interesting stories presented, distracting the public from the digital sphere in which we are immersed and hoping to reconnect with the tactile experience of reading a postcard, with all the cultural diversity that it carries in handwriting, expression, calligraphy, folklore and the history that complements the art of small stamps.
It is also an opportunity to awaken the interest of local society, particularly the younger strata, for the celebration and preservation of this traditional means of communication.
The exhibition has the cooperation of CTT Macau Post and The Communications Museum and will be open until July 25, 2020.
Entry is free, but subject to limitations, due to compliance with the regulatory health measures in force.
Don't miss!
For Macau, Further and Higher!