The Hustler
The Hustler, USA, 1961
Dia 22 de Julho, na Casa Garden (Fundação Oriente), a partir das 19h00
II Ciclo de Cinema (último filme deste ciclo)
————-!————-
Director: Robert Rossen
Writers: Sidney Carroll (screenplay) (as Sydney Carroll) , Robert Rossen (screenplay);
Stars: Paul Newman, Jackie Gleason, Piper Laurie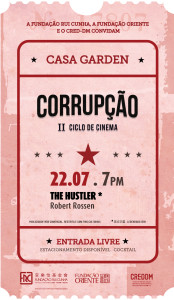 SINOPSE
Paul Newman encabeça um elenco maravilhoso do qual fazem parte Jackie Gleason, George C. Scott e Piper Laurie neste empolgante filme que recebeu uma nomeação para o Oscar de Melhor Filme em 1961, levando as suas quatro estrelas a serem, igualmente, também nomeadas.
Newman (nomeado para Melhor Actor) está inigualável como Fast Eddie Felson, um arrogante jogador de snooker que anda pelas salas de jogo a provocar possíveis adversários.
Determinado a ser aclamado como o melhor dos melhores, Eddie vai à procura do lendário Minnesota Fats (Gleason, nomeado para Melhor Actor Secundário), que é orientado por Bert Gordon (Scott, nomeado, igualmente, para Melhor Ator Secundário).
O amor de uma mulher solitária (Piper Laurie, nomeada para Melhor Actriz) poderia mudar a vida de Eddie, no entanto, este não está disposto a descansar até ganhar a Minnesota Fats, independentemente do preço a pagar, por tamanha decisão.
Considerado um dos melhores filmes do ano pelo New York Times e pela Revista Time, e vencedor de dois Oscares, The Hustler ou a Vida é um Jogo, é um triunfo da arte cinematográfica.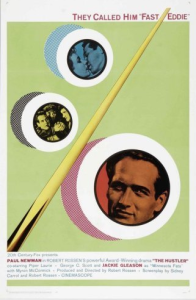 STORYLINE
Fast" Eddie Felson is a small-time pool hustler with a lot of talent but a self-destructive attitude. His bravado causes him to challenge the legendary "Minnesota Fats" to a high-stakes match, but he loses in a heartbreaking marathon. Now broke and without his long-time manager, Felson faces an uphill battle to regain his confidence and his game. It isn't until he hits rock bottom that he agrees to join up with ruthless and cutthroat manager Bert Gordon. Gordon agrees to take him on the road to learn the ropes. But Felson soon realizes that making it to the top could cost him his soul, and perhaps his girlfriend. Will he decide that this is too steep a price to pay in time to save himself?