Touch Of Sin
Touch Of Sin, China, 2013
Dia 01 de Julho, na Casa Garden (Fundação Oriente), a partir das 19h00
II Ciclo de Cinema
Ficha Técnica
Realização : Jia Zhangke
Interpretação : Tao Zhao Vivien Li Wu Jiang Zhang Jia-yi
Sinopse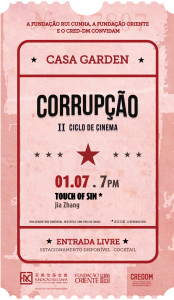 Quatro histórias independentes interligam-se cronologicamente e mostram diferentes perspectivas da violência: um mineiro que se revolta contra a corrupção dos chefes da sua aldeia; um homem que regressa a casa e descobre as várias possibilidades de uma arma de fogo; uma recepcionista de uma sauna que é assediada por um cliente rico; e, finalmente, um jovem trabalhador fabril que luta desesperadamente por uma vida melhor.
Quatro pessoas distintas, quatro províncias de um único país, uma reflexão sobre a China contemporânea.
Em competição pela Palma de Ouro na Edição de 2013 do Festival de Cannes, onde arrecadou o Prémio de Melhor Argumento, um filme dramático realizado pelo chinês Jia Zhang-ke ("Still Life – Natureza Morta", "24 City", "Histórias de Shanghai"), que se debruça mais uma vez sobre as questões sociais e culturais do seu país.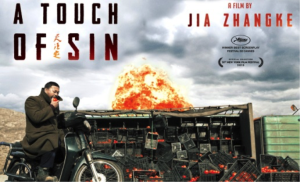 Touch of Sin
A "brilliant exploration of violence and corruption in contemporary China" (Jon Frosch, The Atlantic), A TOUCH OF SIN was inspired by four shocking (and true) events that forced the world's fastest growing economy into a period of self-examination.
Written and directed by master filmmaker Jia Zhangke (The World, Still Life), "one of the best and most important directors in the world" (Richard Brody, The New Yorker), this daring, poetic and grand-scale film focuses on four characters, each living in different provinces, who are driven to violent ends.
An angry miner, enraged by widespread corruption in his village, decides to take justice into his own hands. A rootless migrant discovers the infinite possibilities of owning a firearm. A young receptionist, who dates a married man and works at a local sauna, is pushed beyond her limits by an abusive client. And a young factory worker goes from one discouraging job to the next, only to face increasingly degrading circumstances.