II Cinema Cycle – Corruption
The CRED-DM, Reflection Center, Macau Law Study and Dissemination, Rui Cunha Foundation and the Fundação Oriente held for one month (June 17 to July 22), its II film series, this time dedicated to theme of corruption.
All sessions will take place in the House Garden (Orient Foundation), from 19.00.
On Wednesday, June 17, the film American Hustle, David O. Russell will be displayed.
After viewing the film chosen, we invite all present to the public a small, informal conversation about the topic.
Full schedule: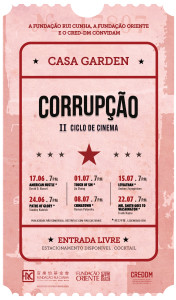 June 17 – American Hustle by David O. Russell.
June 24 – Paths of Glory by Stanley Kubrick;
July 1 -Touch of Sin, Jia Zhang Ke;
July 8 – Chinatown, Roman Polanski;
July 15 – Leviathan, Andrey Zvyagintsev;
July 22 -Mr. Smith Goes to Washington, Frank Kapra.
* All films have English subtitles.
** Parking is available inside the Garden House.
*** Admission is free.
We count on you!
For Macao More and Better!
Please check out the reference of  "Ponto Final"  portuguese Newspaper…