The Book and Copyright
Reflections at nightfall
conference
The Book and Copyright
Wednesday, April 23, 18:30
Rui Cunha Foundation – Free Admission
Roundtable with:
Dr. Gonçalo Cabral, Assistant Secretary for Economy and Finance MSAR
Professor Jing Yao Ming, Vice-President of the Cultural Institute of Macau
José Luis Sales Marques, President of the Institute of European Studies of Macau, Curator of Rui Cunha Foundation
Dr. Wu gwok Nin, Director General of Intellectual Property Association of Macau
Carlos Morais José, Books Editor of the Middle
Presentation of CRED-DM online bookstore and ebook release of The issue of malpractice in tort – Author: João Vieira Guedes
This conference is a translation of Chinese / Portuguese language
Organization: CRED-DM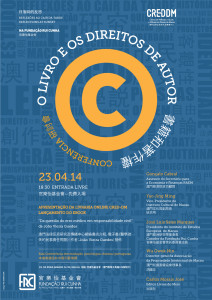 Under the Second Anniversary of Rui Cunha Foundation, CRED-MD – Center for Reflection, Study and Dissemination of Macau Law, is organizing a Theme subject to the Copyright Conference.
Exploiting the fact that, on the day of April 23, is celebrating another International Day of the Book and Copyright, and this is a very relevant topic in the legal world and not only in Macau, the CRED want an informal and relaxed environment evening, join the same table, Jurists, editors, writers and other professionals from the middle to, share the major obstacles faced aloud what perspective you have about the importance of Copyrights, advantages, disadvantages the best that is in Macau and what should be improved.
The session will begin with the reading of the usual message on the anniversary of UNESCO, followed by discussion with speakers and discussion with the audience.
Mensagem da UNESCO